SRI International Spin-Off Company Commercializes Cutting-Edge Electroadhesion Technology for Manufacturing and Logistics
SANTA CLARA, Calif. October 07, 2013

Grabit, Inc., an industrial automation and material handling solutions company, has received Series A round funding. The investment is led by Formation 8, a technology venture capital firm with a presence in the Silicon Valley, China, Korea and Singapore. ABB Technology Ventures (ATV) and NIKE Inc., are also investing in the Series A round.
"We are honored to be funded by Formation 8 and be part of the firm's strategy to connect U.S. technologies to global markets, especially in Asia," said Charlie Duncheon, CEO and co-founder of Grabit, Inc. "The funding will enable Grabit to commercialize electroadhesion technology for existing and new customers in multiple material handling applications. We are also delighted to have strategic investors with such a broad global reach in the multi-billion dollar manufacturing and logistics market."
Electroadhesion is an electrically controllable adhesion technology that requires ultra-low power consumption. The technology was developed and patented within the Robotics Program at SRI International. Grabit's products include grippers and fixtures, case and box handling grippers, and smart conveyors for manufacturing and logistics.
"Our investment in Grabit helps Formation 8 to fulfill our investment strategy for the efficient conservation of resources globally," said Tom Baruch, Partner of Formation 8. "Resource efficiency is an expanding pain point especially for our collaborators in North America and Asia. We are grateful for the opportunity to help Grabit establish the global operating standard to improve productivity in the manufacturing and logistics industries."
Grabit is an SRI International spin-off company that enables new material handling methods in many applications. Electroadhesion enables a flexible, general-purpose platform technology that can successfully handle a wide variety of objects, shapes, sizes, and materials. Grabit currently has more than a dozen customers globally, including several Fortune 500 companies in industries such as warehouse automation, parcel handling, consumer products, and textiles.
"Grabit's electroadhesion-based material handling products provide a technique of holding or grasping objects with minimal mechanical actuation and energy expenditure," said Harsha Prahlad, Ph.D., CTO and co-founder of Grabit, Inc. "In many applications, Grabit's products provide significant customer-validated advantages in performance, operational flexibility, and higher throughputs. In addition, these products provide savings in size, weight, and power compared to conventional material handling solutions."
Electroadhesion can be applied to a variety of materials with smooth, rough, or dusty surfaces. Beyond industrial automation, electroadhesion can address a wide range of biomedical, military, and consumer needs.
About Grabit, Inc.
Grabit, Inc. manufactures electroadhesion-based material handling solutions for manufacturing, logistics, and service industries. Electroadhesion is an electrically controllable adhesion technology that requires ultra-low power consumption. Grabit's products include grippers, fixtures, and smart conveyors. These products enable new applications and deliver customer-validated direct and dramatic benefits to the bottom line with unprecedented flexibility, performance and low operating costs.
For more information visit http://www.grabitinc.com
About Formation 8
Formation 8 is a leading venture capital firm that provides capital and strategic support for technology and energy technology companies. Formation 8 combines deep operating and investing experience to partner with the best entrepreneurs and transform important global industries. The firm is based in San Francisco and has offices in Palo Alto, Seoul, Beijing, Shanghai and Singapore. http://www.formation8.com
About SRI International
Innovations from SRI International have created new industries, billions of dollars of marketplace value, and lasting benefits to society-touching our lives every day. SRI, a nonprofit research and development institute based in Silicon Valley, brings its innovations to the marketplace through technology licensing, new products, and spin-off ventures. Government and business clients come to SRI for pioneering R&D and solutions in computing and communications, chemistry and materials, education, energy, health and pharmaceuticals, national defense, robotics, sensing, and more.
Visit http://www.sri.com to learn more about SRI.
Featured Product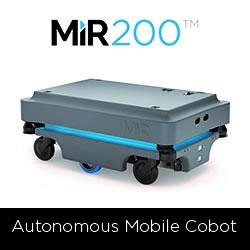 MiR200 is a safe, cost-effective mobile robot that automates your internal transportation. The robot optimizes workflows, freeing staff resources so you can increase productivity and reduce costs. MiR200 safely maneuvers around people and obstacles, through doorways and in and out of lifts. You can download CAD files of the building directly to the robot, or program it with the simple, web-based interface that requires no prior programming experience. With its fast implementation, the robots offers a fast ROI, with payback in as little as a year.