Boston Engineering is a principal corporate sponsor of AUVSI New England
WALTHAM, Mass., Oct. 8, 2013 -- Boston Engineering Corporation will be exhibiting at the Unmanned Vehicle Maritime Summit at the Newport Naval Station in Newport, RI on October 9th and 10th. Sponsored by the AUVSI New England Chapter, this second annual event will feature unmanned system topics including Industry Partnering for IRAD Funding, Big Data, Mine Countermeasures, Drug Interdiction and future Naval Operations. For more information on this event including speakers, agenda and registration, please visit the event website at Unmanned Vehicle Maritime Summit and be sure to visit us in the exhibit area.

Mark Smithers, Vice President and Chief Technology Officer for Boston Engineering stated, "We are committed to the advancement of unmanned systems in the New England area. Our investment of sponsorship funds and manpower for the organization, and specifically for this summit at the Newport Naval Station, is a testament of our support." Boston Engineering's next generation autonomous unmanned vehicle (AUV) technology, called BIOSwimmer, will be on display and the company believes it is poised to open new application space in maritime and riverine environments. Boston Engineering recently received a grant from Mass Ventures specifically to assist with commercialization of BIOSwimmer. "The support validates the state's belief that unmanned systems have a strong future in Massachusetts, and it demonstrates that the Boston Engineering BIOSwimmer technology shows promise for commercial success," states Smithers.
About The Association for Unmanned Vehicle Systems (AUVSI)
The Association for Unmanned Vehicle Systems International (AUVSI) is the world's largest non-profit organization devoted exclusively to advancing the unmanned systems community. AUVSI's 9,000 members worldwide come from government organizations, industry and academia. AUVSI is committed to fostering, developing, and promoting unmanned systems and related technologies.
AUVSI's New England chapter serves the unmanned systems community in the states of Connecticut, Massachusetts, Maine, New Hampshire, Rhode Island and Vermont. The AUVSI New England Chapter corporate members include Boston Engineering Corporation, Bluefin Robotics, iRobot, Raytheon, Rolls Royce, SEA Corp, QinetiQ, Sikorsky Aircraft Corporation and Ultra Electronics Measurements Systems Inc. In addition, 560 members currently represent over 131 high technology companies already participating in unmanned air, space, land and sea applications.
About Boston Engineering
Boston Engineering Corporation, an engineering consultancy, designs and engineers new and next-generation product solutions for commercial and government entities. We offer multidisciplinary engineering teams to help guide clients from proof-of-concept through the product life-cycle. With expertise ranging from robotics to complex electromechanical systems and supply-chain development, we thrive on solving the most difficult challenges clients face every day.
Boston Engineering serves industries that include medical, industrial, defense and homeland security. Learn more at www.boston-engineering.com
Featured Product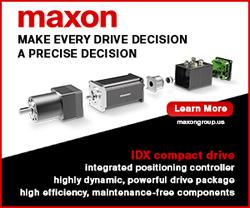 Discover the world of drive technology from a leading worldwide supplier of innovative customized drives. - Manufacturer of brushed and brushless DC motors, gearheads and motion controllers - Custom drive systems, quantities as low as a single unit - Certified for aerospace and medical applications