This new relationship was announced at AUVSI's Unmanned Systems Europe conference in Köln, Germany.
Kiln, a specialist insurance underwriting group, announced that it will be partnering with training provider Resource UAS to help mitigate the risks posed by unmanned aircraft operations through training and insurance.

Kiln, part of Tokio Marine Group, is offering a 15 percent discount on combined hull and liability insurance coverage and a 10 percent discount on standalone hull or liability insurance coverage to clients that hold a current and valid RPQ-s certificate, which is exclusively available from Resource UAS.
As UAS, or remotely piloted aircraft systems, are being used more and more for commercial uses, it's important that they are properly insured, the companies said.
"We recognize the value proficient training brings to underpin the safe operation of RPAS, which are increasingly being used within a broad range of industry sectors. Through this partnership, we hope to combine our market-leading specialist knowledge and experience of aviation risk mitigation with an industry recognized training program, to help shape a safe and viable commercial RPAS sector as it develops," said Jay Wigmore, aviation underwriter at Kiln.
Resource UAS is owned and run by Resource Group, a U.K.-based engineering and training company.
"We have chosen to partner with Kiln as it is the market leader in the provision of specialist aviation insurance, and we look forward to helping make the commercial use of RPAS safer," said Adrian Leatherland, divisional director at Resource UAS.
This new relationship was announced at AUVSI's Unmanned Systems Europe conference in Köln, Germany.
Featured Product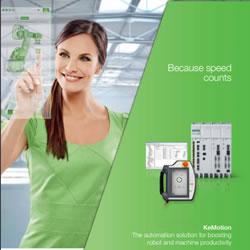 Best ergonomics and an intuitive user interface are key factors for efficient operation and monitoring. With the KeTop devices, high-performance, application-optimized hardware is available. The turnkey TeachView robotics user interface enables fast and easy teach-in. User-friendly HMIs are created with the easy-to-operate KeView visualization software - an optimum user experience is guaranteed.