Solid Concepts, a custom and additive manufacturing (or 3D Printing) solutions provider, has sustained consistent product success and quality since 1991.
Valencia, CA October 23, 2013

Solid Concepts was founded in 1991 in the birthplace of Stereolithography (SLA) in Southern California. For the past 22 years, Solid Concepts has demonstrated commitment to its customers to meet the highest quality standards with its manufacturing and prototyping services.
Solid Concepts began with two Stereolithography (SLA) machines and quickly added on CNC machining. Twenty-two years later, Solid Concepts provides SLA, PolyJet, 3D Color Prints, QuickCast Investment Casting Patterns, Selective and Direct Metal Laser Sintering (SLS, DMLS), Fused Deposition Modeling (FDM), CNC machining, Cast Urethanes, Injection Molding & Tooling, and professional finishing. Solid Concepts powers over 165 additive manufacturing machines, cast urethane systems, tooling and injection molding systems, and auto-rated paint booths for professional painting and finishing. Many of Solid Concepts employees carry patents for industrial design, software, and additive manufacturing advancements. Solid Concepts has consistently received awards for meeting the highest quality standards, products, services, and on-time deliveries. The company has been a dedicated service provider to a wide range of industries from aerospace and medical to business consumer and architectural.
Solid Concepts' has been known for expert staff and technical innovation since its inception. Adding together all the specialized staff at Solid Concepts amounts to over 400 years of aerospace, medical, dental, anatomical, industrial design, architectural, and business consumer knowledge. Solid Concepts is proud to continue on in expert prototyping and manufacturing for another 22 years, and beyond.
About Solid Concepts
Solid Concepts' custom manufacturing solutions accelerate product development and production efforts for aerospace, medical, industrial design, business consumer industries and more. Additive Manufacturing, rapid prototyping, Injection Molding and Tooling services produce plastics, urethanes and metals directly from design data providing significant time and cost savings. PolyJet, Stereolithography (SLA), Laser Sintering (SLS, DMLS), Fused Deposition Modeling (FDM), QuantumCast™ cast urethanes, CNC prototypes and short run production parts with a professional finishing department. ISO 9001 AS9100 certified.
Featured Product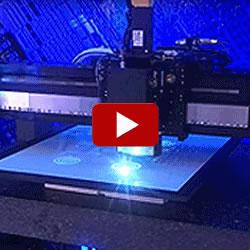 Hexapod micro-motion robots are based on very flexible concept that can easily solve complex motion and alignment problems in fields including Optics, Photonics, Precision Automation, Automotive, and Medical Engineering.