RS Components (RS), the trading brand of Electrocomponents plc, the world's leading high service distributor of electronics and maintenance products, is now selling the latest innovative product to emerge from the Raspberry Pi Foundation.
Priced at GBP16.80, the Pi NoIR infrared camera module is a variant of the existing visible light Raspberry Pi camera module stocked by RS since the end of last year, and features the same 5 megapixel image sensor as its predecessor with the optical light filter removed to enable IR light frequencies.

Pi NoIR Infrared Camera Module
Developed for diverse applications including those requiring night vision (e.g. security and monitoring nocturnal animal behaviour), hyperspectral imaging, astronomy, and paranormal investigation, Pi NoIR is capable of taking still photos with a resolution of 2592 x 1944. The tiny module, which measures just 20mm x 25mm x 9mm, can also record up to 1080p HD videos at 30 frames per second, allowing users of Raspberry Pi models A and B to build video applications. The board will plug into the currently unused CSI pins on the Raspberry Pi, using the I²C interface for control.
To get started with Pi NoIR, users will need a Raspberry Pi board, an SD card with OS installed, and a battery pack or power supply. Optional extras include an infrared lamp, a Raspberry Pi camera stand, and various cables for HDMI, VGA and Ethernet connectivity. All components are available to purchase direct from RS stock.
About RS Components
RS Components and Allied Electronics are the trading brands of Electrocomponents plc, the world's leading high service distributor of electronics and maintenance products. With operations in 32 countries, we offer more than 550,000 products through the internet, catalogues and at trade counters to over one million customers, shipping around 44,000 parcels a day. Our products, sourced from 2,500 leading suppliers, include electronics, automation and control, test and measurement, electrical and mechanical components.
Electrocomponents is listed on the London Stock Exchange and in the last financial year ended 31 March 2013 had revenues of GBP1.24bn.
Featured Product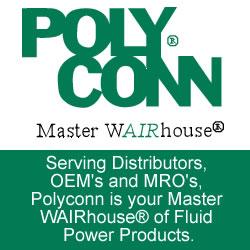 We can produce pneumatic hose and other pneumatic products to match your exact specifications. Our proficient engineering and quality management, coupled with outstanding customer service means Polyconn delivers high quality pneumatic components at competitive prices. Place your order or contact Polyconn for more information on our pneumatic hoses, pneumatic manifolds, Duratec® Pipe or any of our other top quality pneumatic products and components.