A milestone towards achieving the pneumatic-free factory
10-09-2013 - The electrically actuated SCHUNK EWS quick-change system is a milestone towards achieving the pneumatic-free factory: For the first time a fully automated robot change system is no longer pneumatically actuated, but electrically. This forward-looking module offers the ideal prerequisite for increasing the energy efficiency of handling systems, for implementing fluid-free solutions, and to ensure a fast tool change when used in mobile applications.

SCHUNK, the competence leader for clamping technology and gripping systems offers the digitally controllable EWS in module size 018 for payloads up to 18 kg in the first step. A maintenance- and wear-free servo motor is directly integrated in the housing, and ensures fast and at the same time powerful locking. Since the module design is extremely flat, plant designers benefit from its minimum interfering contours. The mechanics of the EWS is based on the platform of the well-proven pneumatic SCHUNK SWS quick-change system. Therefore this family-owned company is using the same special locking system with patented self-locking for the electrically actuated modules. Piston monitoring and tool presence control are already integrated into the system. Moreover, the electrical transmission of the pneumatic SCHUNK SWS quick-change systems is completely interchangeable with the EWS. With a 24 V DC power supply the quick-change system can also be used for mobile applications. It is designed for high payload capacities. For feed-through of signal and power electronics it can be optionally enlarged by a standard SCHUNK E-module. With 22 module sizes and more than 2,000 versions, SCHUNK, the competence leader of clamping technology and gripping systems offers the world's largest diversity of variants in the field of quick-change systems. The standard module program ranges from miniature change systems for micro assembly to heavy-duty systems for load capacities up to 1,350 kg.
Featured Product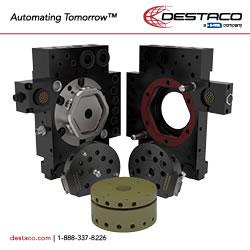 The Accelerate Collection is a range of products designed to help stamping press operators speed up their production lines with higher efficiencies. Working with our customers helped to bring innovative new products to the market, which in turn helps them produce more stamped parts per hour, while reducing moment forces and overall system wear and tear. Accelerate Collection products include Lightweight Tooling, Polyurethane Vacuum Cups, Sheet Metal Grippers, Plastic Proximity Switch Mounts, and new Digital Solutions.