At 2013 COPSWEST Expo, Company teams with SurveillanceGrid for versatile people tracking application.
Morgan Hill, Calif. November 05, 2013

Velodyne Acoustics Inc.'s LiDAR division (http://www.velodynelidar.com) , known for its real-time, 3D LiDAR sensors used in autonomous vehicles and for mobile mapping, is expanding its application portfolio into the security and surveillance domain.
At 2013 COPSWEST Leadership Summit & Expo (http://www.cpoa.org/), under way through Nov. 6 in Ontario, Calif., Velodyne has teamed with SurveillanceGrid, a security solutions provider from Silicon Valley, to demonstrate new sensing technology aimed at bringing daytime and nighttime 3D surveillance capabilities to law enforcement agencies.
During the three-day seminar/exhibition, hundreds of chiefs of police will have a first-hand look at the advantages of LiDAR-based People Tracking. For the event, Velodyne and SurveillanceGrid will showcase various People Tracking solutions: monitoring an audience in a public space via 3D LiDAR; tracking and analyzing movements for unusual behavior; passing data on to a PTZ (pan, tilt, zoom) camera for more detailed image zoom-ins and possible face recognition of suspicious persons.
Key to the technology is Velodyne's 3D LiDAR sensor. Its multiple beam architecture is able to measure up to 1.3 million XYZ points per second, facilitating real-time sensing with an update rate of 20 times per second within a 360-degree environment. People Tracking software from Raytheon/BBN, an add-on tool, analyzes the raw data on people and tracks their movements over time. In-situ location data can be passed on to a live camera, enabling a closer look at individuals exhibiting suspicious behavior.
"We're proud to be able to provide our technology to help law enforcement officials in their mission of protecting the public," said Wolfgang Juchmann, Ph.D., Director of Sales and Marketing of Velodyne Acoustics Inc.'s LiDAR division. "LiDAR-assisted People Tracking using Velodyne's real-time sensor is a natural for police departments and other law enforcement agencies. It's absolutely essential that those charged with safeguarding the public have state-of-the-art tools with which to do their jobs. LiDAR-assisted People Tracking is a powerful way to investigate -- and even prevent - criminal activity."
About Velodyne LiDAR
Founded in 1983 and based in California's Silicon Valley, Velodyne, Inc. is a diversified technology company known worldwide for its high-performance audio equipment and high-definition LiDAR sensors for autonomous vehicle applications. The company's LiDAR division evolved after founder and inventor David Hall competed in the 2004-05 DARPA Grand Challenge using stereovision technology. Based on his experience during this challenge, Hall recognized the limitations of stereovision and developed the HDL64 high-resolution LiDAR sensor. More recently, Velodyne has released its smaller, lightweight HDL 32E sensor, available for many applications including UAV's. Since 2007, Velodyne's LiDAR division has emerged as a leading developer, manufacturer and supplier of high-definition LiDAR sensor technology used in a variety of commercial autonomous vehicle applications, including 3D mapping and surveying. For more information, visit http://www.velodynelidar.com.
Featured Product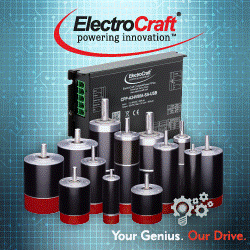 ElectroCraft exhibits its motion control product offer at Robotic related events at trade show and demonstrations across the world. We attend these events and conferences not only to show our motor and drive product offering, but to discuss and learn more about challenges involved with developing commercial robotics across markets.