Boston Engineering's Advanced Systems Group will incubate its emerging marine technologies in this new location
WALTHAM, Mass., Nov. 5, 2013 -- Boston Engineering Corporation today announced the opening of an office at the ATMC of the University of Massachusetts Dartmouth, 151 Martine Street, Fall River, MA.

Boston Engineering's Advanced Systems Group (ASG) will incubate projects emphasizing maritime activities, such as its ground-breaking technology with unmanned underwater vehicles (UUVs). The site is adjacent to South Watuppa Pond and very close to the ocean, making it ideal for conducting UUV tests.
"Our team is excited to announce this addition," said Michael Rufo, Director of Boston Engineering's Advanced Systems Group. "Our ability to rapidly develop tactically relevant, game-changing technologies in the maritime mission space is strengthened by this opening. It allows us to enhance our value and offerings to customers and, most importantly, to our nation's warfighters and first responders."
"Our engineers have a long history of collaboration with Dr. Lou Goodman, Associate Dean at the School for Marine Science and Technology (SMAST)," stated Roger Race, ASG's innovation program developer.
"This move is in direct response to the progress made with our SBIR-funded UUV technologies," stated Mark Smithers, Vice President and Chief Technology Officer for Boston Engineering. "ATMC provides excellent access to people with maritime and manufacturing expertise, as well as to a collaborative environment with a great university. We are thrilled to leverage the formidable base established by UMass Dartmouth for the purposes of developing cutting edge technologies within our state."
About the Advanced Technology and Manufacturing Center (ATMC)
The Advanced Technology and Manufacturing Center (ATMC) of the University of Massachusetts Dartmouth provides advanced technology and manufacturing solutions, through industry and university partnerships, to meet current and future business needs.
ATMC is located in the South Coast Research and Technology Park, near the intersection of Routes 195 and 24 in Fall River, within a 60,000 sq. ft. state-of-the-art technology facility.
About Boston Engineering Corporation
Boston Engineering Corporation, an engineering consultancy, designs and engineers new and next-generation product solutions for commercial and government entities. We offer multidisciplinary engineering teams to help guide clients from proof-of-concept through the product life-cycle. With expertise ranging from robotics to complex electromechanical systems and supply-chain development, we thrive on solving the most difficult challenges clients face every day.
Boston Engineering serves industries that include medical, industrial, defense and homeland security. Learn more at www.boston-engineering.com
Featured Product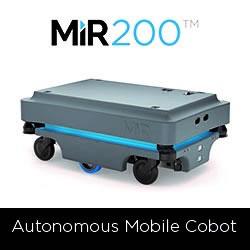 MiR200 is a safe, cost-effective mobile robot that automates your internal transportation. The robot optimizes workflows, freeing staff resources so you can increase productivity and reduce costs. MiR200 safely maneuvers around people and obstacles, through doorways and in and out of lifts. You can download CAD files of the building directly to the robot, or program it with the simple, web-based interface that requires no prior programming experience. With its fast implementation, the robots offers a fast ROI, with payback in as little as a year.