Gocator 3100 series delivers 3D point cloud acquisition, measurement, and control decision capabilities in a single package
Vancouver, Canada November 12, 2013

LMI Technologies (LMI), a leading developer of 3D scanning, measurement, and data visualization technologies, announces the official release of the new Gocator snapshot sensor product line. The Gocator 3100 series is the latest addition to the Gocator all-in-one 3D smart sensors. It simplifies automated non-contact inspection using blue LED projection and stereo scanning technology. The Gocator 3100 series is an industrial scanning solution that delivers 3D point cloud acquisition, measurement, and control decision capabilities in a single package. The first model available in this product line is the Gocator 3110, the industry's first all-in-one 3D smart snapshot sensor.
While working with customers in the automotive industry, LMI saw the need for an inspection system that could make measurements of multiple features in just one scan at a higher level of simplicity than standard industry solutions. From listening to customer feedback, LMI developed the Gocator 3D snapshot sensor with the ability to acquire high resolution, full field scans quickly to inspect multiple features of parts with full 3D visualization and make control decisions. This inspection solution provides assurance that consistent product quality levels are met during final product assembly. The snapshot sensor is ideal for robotic or stationary inspection stations.
"We are very excited about how the Gocator snapshot sensor will change the way automotive inspection processes are currently done," said Terry Arden, CEO of LMI. "The Gocator snapshot sensor has powerful 3D feature recognition capability that automatically detects features such as fasteners, holes, slots, studs, gap and flush at different angles and orientations commonly found in automotive assembly production lines. Since many features in the automotive industry are commonly used in other industries, this technology has potential to be widely adopted across many manufacturing processes."
First introduced three years ago, Gocator 3D smart sensors make it easy for manufacturing facilities to inspect materials and improve quality control at production speed. Gocator displacement, profile, and the new snapshot sensors are ideal for a wide variety of non-contact, in-line inspection applications across many different industries. Gocator includes everything needed for set up, measurement and control in a pre-calibrated package and operated by a standard web browser. It can interface to existing control systems, including PLCs using Ethernet, digital, analog, and/or serial output.
The Gocator 3110 is the first in its series of 3D smart snapshot sensors from LMI with more models to be released. The sensor is available for order today. To learn more about the Gocator 3100 series of 3D smart snapshot sensors, please visit http://www.lmi3d.com.
Featured Product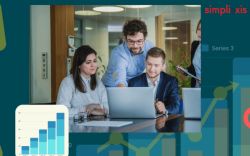 TE Connectivity's HDC Dynamic Module integrates the Dynamic series flexible signal and power solutions and the HDC Heavy Duty Connector series to form a solution of harsh environment connectors. TE's HDC Dynamic Module offers the top features of the two series. It uses the contact concept of the Dynamic series, with its proven performance in industrial uses and its cost effectiveness compared to legacy cutting contacts. The HDC connectors make the module a reliable solution for harsh environments. TE's HDC Dynamic Module supports 2A/32V to 40A/300V performance and 3 positions to 48 positions.