The U.S. Army has shifted its focus to smaller, more rapidly deployable units with the proper equipment to support their missions.
GAINESVILLE, Fla., Nov. 8, 2013 -- Prioria Robotics, Inc., developers of the tactical Small Unmanned Aircraft Systems (SUAS) announced today that it has been awarded several contracts totaling $4.5 million by the U.S. Army Rapid Equipping Force. This multi-system order will position the Maveric Unmanned Aircraft System® (UAS) as a next generation UAS capability to support the warfighter. As part of this recent contract, Maveric UAS® successfully completed certification by the Army Test and Evaluation Command (ATEC).

The U.S. Army has shifted its focus to smaller, more rapidly deployable units with the proper equipment to support their missions. Maveric UAS® is a single-person operable and portable aircraft, usable in the most rugged conditions and equipped with the largest number of payload options of any hand-launched UAS, including day, night, Short Wave Infrared, and other custom payloads utilizing Prioria's modular payload system. Maveric UAS® provides next generation capability at a great value with a low cost of ownership.
"It is our goal to support the warfighter. Having ATEC certifications means that we have a safe and reliable system," said Bryan da Frota, Chief Executive Officer of Prioria Robotics, Inc. "We believe as the mission changes and evolves, Maveric UAS® will become an instrumental component to meeting these missions."
To learn more about Prioria Robotics Inc., visit www.prioria.com, search www.youtube.com Prioria Maveric UAS® - for videos or follow on Twitter @MavericUAS.
ABOUT PRIORIA ROBOTICS, INC.:
Prioria Robotics, Inc. is a Gainesville, Florida based company dedicated to making Unmanned Aircraft Systems smarter. Prioria offers Maveric UAS® to the U.S. and allied militaries worldwide. In addition to military offerings, Prioria Robotics Inc. provides a family of Unmanned Aircraft Systems to public safety, agriculture and other markets.
Featured Product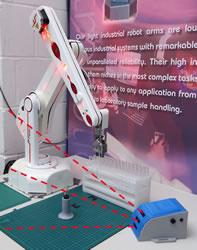 The 6-axis version of the R17HS high speed variant of the R17 robot is now available. As is our policy the 6th axis is an optional bolt-on module. At the same time we have made it even faster and new software eliminates shake and greatly improves repeatability as this video shows. Please see https://www.youtube.com/watch?v=3wG0MeiJ-yE. The video would seem to imply a repeatability of 0.01mm but we are sticking with 0.2mm in the spec. The motor specialist was able to tune the motors from the other side of the pond. My first reaction when we put power on and entered the first commands was to jump back in amazement (and maybe an expletive). Tip speed is now 3m/s; that's 3 times as fast as its nearest competitor yet costs half the price. I love it when a plan comes together.