November 13-14, 2013 at the George R. Brown Convention Center in Houston, Texas
Teledyne DALSA, a Teledyne Technologies company and a global leader in machine vision technology, will showcase its smart cameras and Vision Appliances in Booth 607 at the Rockwell Automation Fair, a two-day event featuring safe and sustainable solutions that will help companies improve profitability, optimize their plants, and make their operations cleaner, safer, more secure, and more energy efficient. The Fair will take place November 13-14, 2013 at the George R. Brown Convention Center in Houston, Texas.

Featured Products
BOA Smart Camera- Highly integrated vision system specifically designed for factory floor automation. Complete with embedded application software, BOA offers a flexible inspection system that is ready to setup, easy to integrate and quick to deploy on the factory floor. The BOA camera line also includes a range of resolutions and performance models for both monochrome and color applications.
For a video tour of the BOA Smart Cameras visit: http://www.teledynedalsa.com/imaging/products/cameras/smart/-boa-overview/
GEVA Vision Appliance - High performance multi-camera Vision Appliance offers maximum camera expandability with lowest overall system cost. Multiple high bandwidth GigE ports are compatible with a wide range of mono or color, area and line scan GigE cameras which can be configured to suit a range of application needs.
Where:
Rockwell Automation Fair
George R. Brown Convention Center
Houston, Texas
Booth: 607
When:
November 13-14, 2013
About Teledyne DALSA's Machine Vision Products and Services
Teledyne DALSA is a world leader in the design, manufacture and deployment of digital imaging components for the machine vision market. Teledyne DALSA image sensors, cameras, smart cameras, frame grabbers, and software are used in automated inspection systems across many industries and applications. www.teledynedalsa.com/mv
Source: http://teledynedalsa.com/
Featured Product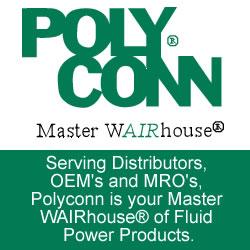 We can produce pneumatic hose and other pneumatic products to match your exact specifications. Our proficient engineering and quality management, coupled with outstanding customer service means Polyconn delivers high quality pneumatic components at competitive prices. Place your order or contact Polyconn for more information on our pneumatic hoses, pneumatic manifolds, Duratec® Pipe or any of our other top quality pneumatic products and components.