UR5 Robot Arm from Universal Robots Rings NASDAQ Closing Bell, Showcasing Market-Leading 'Collaborative Robot'
DALLAS, Nov. 13, 2013 -- ROBO-STOX LLC, the world leader in developing investment solutions targeting the robotics and automation space, commemorated the launch of the ROBO-STOX™ Global Robotics and Automation Index ETF (Ticker: ROBO) by having a robot ring the closing bell at the NASDAQ MarketSite in New York's Times Square on Tuesday, November 12, 2013.

The ETF recently began trading on Exchange-Traded Concepts' accelerated, low-cost and private-label ETF platform. It tracks the ROBO-STOX™ Global Robotics and Automation Index, the first investment benchmark for the worldwide robotics and automation industry.
"Investors everywhere now have the opportunity to capitalize on the accelerating global growth in robotics," said Frank Tobe, Co-Founder of ROBO-STOX and Editor of The Robot Report, a robotics news portal tracking the worldwide business of robotics. "As robots are introduced in more companies in more sectors, investors can use our index as a benchmark by which to judge investment opportunities in the expanding robotics arena."
The "bell ringer," the UR5 robot arm from Universal Robots, the Danish manufacturer of industrial robots, was chosen to showcase a market leader within "collaborative robots," an emerging class of robots propelling the use of robotics in companies that previously thought robots would be too expensive and complex to deploy. The UR5 robot arm is equipped with a three-fingered gripper designed by SCHUNK.
Thomas Visti, Vice President and Chief Commercial Officer of Universal Robots, said the company targets a new market for automation within small and medium-sized businesses by making a robot that can safely work alongside human employees, and is affordable and easy to use.
"The moves in the bell-ringing application were programmed in 'teach mode,' allowing the user to simply grab the robot arm and show it the desired moves," said Mr. Visti. "This eliminates the steep learning curve often experienced when trying to program and operate a robot."
Universal Robots introduced itself to the North American market by implementing a high-tech distribution channel throughout the U.S. and Canada in September 2012. The company's robots have been integrated into a broad range of sectors, including automotive, machine tools, medical, packaging, pharmaceutical, assembly and electronics.
"The transition to smart and autonomous automation is ongoing not only in manufacturing but also in collaborative work of all types, and consequently there is money to be made in creating robots to fill that need," said Rob Wilson, Chief Executive Officer of ROBO-STOX. "Our index and ETF enable investors to benefit from the many business opportunities in the global robotics and automation industry."
For media inquiries about ROBO-STOX, please contact Brendan McManus at 646-922-7758 or bmcmanus@jcprinc.com.
About ROBO-STOX
ROBO-STOX LLC is the creator of the first benchmark index to track the global robotics and automation market. Through the expertise of its leadership team and strategic advisors, ROBO-STOX looks worldwide to find new innovations in the robotics space, from companies of all sizes and verticals, to deliver the growth of robotics to investors - from individuals to institutions.
Headquartered in Dallas, Texas, ROBO-STOX is the recognized leader in developing investment solutions that target the robotics, automation and related technology sectors. To learn more about ROBO-STOX, obtain facts about the index and download pertinent information about the industry, please visit www.robostox.com.
About Universal Robots
Universal Robots is a first mover within a new segment of collaborative robots focusing on user friendliness and flexibility. Since the first UR robot entered the market in 2009, the company has seen substantial growth with the robotic arms now being sold in 50 countries worldwide. The company is headquartered in Odense, Denmark where all development and production is carried out. To learn more about Universal Robots, please visit: www.universal-robots.com
Featured Product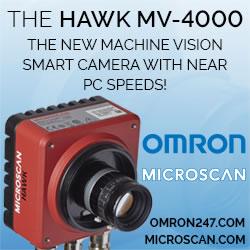 Awe-inspiring power and superior flexibility is sheathed within the contoured casing of the HAWK MV-4000. This smart camera builds upon the previous generation by quadrupling processing power and achieving real-time trigger response using an FPGA. Its state-of-the-art algorithms make it an excellent tool for any industry, whether the requirement be code reading, code verification, inspection, guidance, gauging or a combination of all four.