Trust Automation designed and developed critical motion control elements to the radar platform.
SAN LUIS OBISPO, Calif., Nov. 14, 2013 -- Trust Automation, Inc., the world's leading developer of linear servo drives and creator of custom and standard high precision motion control and system design devices for the defense and other industries, announced today that they have contributed successfully to the test of the Medium Extended Air Defense System (MEADS) FT-2 Missile test. Trust Automation designed and developed critical motion control elements to the radar platform.

"Trust Automation is known for taking extremely difficult and complex motion control problems and solving them," said Craig von Ilten, Vice President of Business Development Trust Automation. "It is an honor for us to have contributed to the success of the MEADS FT-2 program."
During the test the MEADS System intercepted and destroyed two simultaneous targets attacking from opposite directions during a demonstration of its 360-degree air and missile defense (AMD) capabilities. All system elements worked as planned.
MEADS is a next-generation, ground mobile AMD system that incorporates 360-degree radars, netted and distributed battle management, easily transportable launchers and the hit-to-kill PAC-3 MSE Missile.
Videos of this test can be viewed at the Defense Video & Imagery Distribution System at http://www.dvidshub.net/video/306798/meads-ft-2-missile-test and on YouTube at www.youtube.com/watch?v=4DjzojyLmWo.
MEADS International, a multinational joint venture headquartered in Orlando, Fla., is the prime contractor for the MEADS system. Major subcontractors and joint venture partners are MBDA in Italy and Germany, and Lockheed Martin in the United States.
The MEADS program management agency NAMEADSMA is located in Huntsville, Ala.
About Trust Automation
Trust Automation operates on a foundation of exceeding its customers' expectations in automation systems, developing motor and motion control solutions for the defense, semiconductor, industrial automation, green tech, and medical industries. Trust Automation has almost 25 years of experience in; custom motors, controllers, motor drives and machine systems which meet the unique needs of its customers. Its product line includes; linear servo amplifiers, high performance servo motors, standalone motion controllers and amplifiers, custom assemblies and products to fit unique applications and ground-up system design and manufacturing solutions. For more information please visit www.trustautomation.com or call 805-544-0761.
Featured Product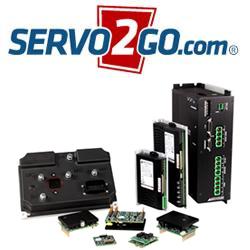 Engineered to drive brushless and brush servomotors in torque, velocity or position mode, Servo2Go.com offers a broad selection of servo drives in a wide range of input voltages and output power levels.