Works with both plus and minus LED currents
TOKYO--Toshiba Corporation (TOKYO:6502) today announced that it has launched "TLP2391", a high-speed photocoupler for servo motors and programmable logic controllers (PLCs) which works with both plus and minus LED currents. Mass production is scheduled to start in December.

PLC applications accept one of two different polarity inputs: sink logic input and source logic input. The "TLP2391" supports both sink and source logic by combining two LEDs in inverse parallel, eliminating the need for a bridge circuit. The product supports 10Mbps high speed communications, twice as fast as other Toshiba dual input photocouplers1 allowing use in communications interfaces in industrial applications. The IC's 2.3mA low input current drive (@ VCC = 3.3V) and 1mA low supply current contribute to energy efficiency.
Applications
Programmable logic controllers (PLC), servo motors, and industrial automation equipment
Key Features of New Product
• Operating temperature: Topr = -40 to 125°C
• Supply voltage: VCC = 2.7 to 5.5V
• Supply current: ICC = 1mA
• Threshold input current:
IFHL = 2.3mA (VCC = 3.3V)
IFHL = 2.5mA (VCC = 5.0V)
• Propagation delay time: tpHL / tpLH = 100ns (max)
• Pulse width distortion: |tpHL-tpLH| = 30ns (max)
• Propagation delay skew: tpsk = 40ns (max)
Note:
[1]: Comparison with 5Mbps speed of Toshiba dual input photocouplers, "TLP2395" and "TLP2398".
For more information about the product, please visit:
http://www.semicon.toshiba.co.jp/info/lookup.jsp?pid=TLP2391&lang=en
Featured Product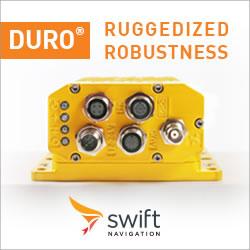 Duro® is a ruggedized version of Swift Navigation's Piksi® Multi RTK GNSS receiver. Built to be tough, Duro is designed for easy integration into existing equipment. This affordable, easy-to-deploy GNSS sensor delivers robust, centimeter-accurate positioning while protected against weather, moisture, vibration, dust, water immersion and the unexpected that can occur in outdoor long-term deployments.