2014 is coming up fast and the Tooling Industry is looking positive according to a recent survey conducted by SelfLube. While attending the Fabtech trade show, SelfLube representatives interviewed companies to see what their take was on business for the new year.
Coopersville, MI November 22, 2013

Good news for toolmakers. The domestic Tooling Industry is poised for an expansion according to a recent informal survey conducted by the SelfLube Company at Fabtech, a trade show held at McCormick Place in Chicago.
"With all the angst and uncertainty in the news these days it's hard to get an accurate read on future direction of the economy let alone that of the Tooling Industry," says SelfLube Owner Phil Allor. "Tool builders need to look ahead to confidently make capital commitments otherwise they are flying blind or worse just sitting on the sidelines."
"So it occurred to me while at Fabtech that within the radius of a few hundred feet there was a collection of customers, suppliers and competitors that would be uniquely qualified to provide an extremely knowledgeable read on the current business outlook," continues Allor. "So I got the idea to conduct a little informal survey to find out what the people who are really in the know really think. I asked a simple question: how do you see business activity over the next three months, up, down or neutral?"
"I am pleased to report that the response was strongly bullish, 70% of the respondents said they expected business activity to increase. 30% were neutral. Nobody expected it to be down," concludes Allor.
What happens in the Tooling Industry has significance beyond the industry itself for two reasons. One is that tooling tends to be a leading indicator of the economy in general so an uptick in tooling is good news for everyone. The other has to do with the nature of tooling and how it affects the broader manufacturing sector.
"Tooling" is the name given to what manufacturers use to form and shape raw material into something useful. This makes tooling the essential driver of manufacturing quality and productivity. Just as the army with the best weapons usually wins the war, the manufacturing company with the best tooling usually wins the economic war. All of this puts the Tooling Industry squarely on the front lines in the struggle against offshore competition. "You might say that we are engaged in a tooling war and the side that has the best tooling industry wins," adds Allor.
SelfLube is the leading U.S. manufacturer of precision components used in molds, dies and special machines and supplies build shops throughout North America. Its product line of some 10,000 standard part numbers includes wear strips, wear plates, bushings,m gibs, parting line locks, lifter slides and related components. As an ISO 9000 registered company with five successive zero non-conformance audits, SelfLube is well positioned to support the industries drive for better tooling.
Featured Product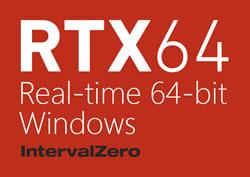 RTX64 turns the Microsoft 64-bit Windows operating system into a Real-time operating system (RTOS). RTX64 enhances Windows by providing hard real-time and control capabilities to a general purpose operating system that is familiar to both developers and end users. RTX64 consists of a separate real-time subsystem (RTSS) that schedules and controls all RTSS applications independently of Windows.RTX64 is a key component of the IntervalZero RTOS Platform that comprises x86 and x64 multicore multiprocessors, Windows, and real-time Ethernet (e.g. EtherCAT or PROFINET) to outperform real-time hardware such as DSPs and radically reduce the development costs for systems that require determinism or hard real-time.