Hundreds of high tech jobs to be created with millions invested
BANGKOK--Unmanned Aircraft Systems (UAS) company Olaeris has selected North Carolina as its top choice for a U.S. headquarters facility. They are currently engaging Piedmont economic development leaders to identify the most promising location for what they believe can become a leading R&D hub to the global UAV industry. The first facility is expected to employ nearly 200 engineers, technicians, programmers, pilots, trainers and support personnel. A key electronics component supplier to Olaeris has also expressed interest in opening a facility next to them, once a site has been chosen.

"We spoke to 19 states about the enormous economic impact domestic UAVs are about to generate and the thousands of new jobs that will be created. However, the NGAT team at NCSU demonstrated the clearest understanding of our company's needs and our technology. Partnering together, Olaeris wants to become the foundation for a mechatronics hub in North Carolina, much like a 'Silicon Valley for robotics'. That can spin off hundreds of start-up companies around Olaeris and generate billions of dollars across multiple industries as the technology advances," said Ted Lindsley, CEO.
Kyle Snyder, Director of NGAT, added, "Olaeris is exactly the kind of company the NGAT Center was formed to support. Their AEVA system represents 2025 technology that can be produced right here in NC by our local workforce. Our research team will provide testing and oversight for state and FAA certification processes in support of AEVA integration into emergency response operations. We are working closely with state and municipal leaders to support the safe and managed integration of this technology which will improve safety, awareness, efficiency, and statewide emergency response capabilities."
Unlike military UAVs, Olaeris steered clear of controversial spy drones and the fear that surrounds them. Instead, they developed AEVA, a flying saucer shaped aircraft that can automatically launch, navigate, and arrive to 911 emergency incidents in about 90 seconds. This gives police, fire and rescue teams early visuals of emergency situations so they can adjust their response based on what is happening. They can speed up for critical urgency or slow down to avoid traffic accidents if the situation is less severe.
After each flight, AEVA produces a flight summary that can be published online, showing the public exactly when, where, why and how the aircraft was used. This is one of many features Olaeris designed into AEVA to protect constitutional privacy rights and comply with federal and state laws.
Lindsley noted, "The era of providing emergency services without routine, early arrival aircraft is coming to an end. If someone is breaking into your house, you can't wait 6-12 minutes for police to arrive. If there is a multi-alarm fire, AEVA will show it in seconds and reduce response time for additional fire fighters by about 10 minutes. That's a lot of property and lives saved."
Featured Product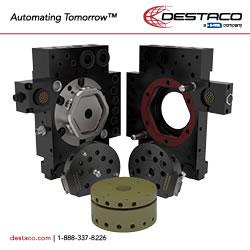 The Accelerate Collection is a range of products designed to help stamping press operators speed up their production lines with higher efficiencies. Working with our customers helped to bring innovative new products to the market, which in turn helps them produce more stamped parts per hour, while reducing moment forces and overall system wear and tear. Accelerate Collection products include Lightweight Tooling, Polyurethane Vacuum Cups, Sheet Metal Grippers, Plastic Proximity Switch Mounts, and new Digital Solutions.