TALON robots are among the most widely deployed military robots in the world, with thousands of robots in service in dozens of countries.
RESTON, VA- December 9-QinetiQ North America (QNA) today announced that its TALON® military robots will provide explosive ordnance disposal (EOD) mission support to Pakistan's military forces. The latest $7.8M order was facilitated by the U.S. Navy and follows previous orders from Pakistan for EOD robots. TALON robots are among the most widely deployed military robots in the world, with thousands of robots in service in dozens of countries.

"TALON robots are world class lifesavers that keep personnel, assets and civilians out of harm's way," said Andy Rogers, Executive Vice President and General Manager of QNA's Technology Solutions business. "TALON helps warfighters identify unseen threats to improve mission security and increase safety."
TALONs are deployed around the world, proving their utility and ruggedness daily. The average US military TALON robot in Iraq and Afghanistan is blown up 13 times and completes thousands of missions in its lifetime, saving warfighter and civilian lives. With more than 4,000 of these life-saving robots in use today, TALON continues to be the robot of choice for counter-improvised explosive device (IED) missions, police operations and hazmat missions both domestically and internationally.
From the rugged TALON® and Dragon Runner™ robots to the Spartacus™ and Raider™ unmanned vehicles, QNA offers a full range of durable, reliable and flexible unmanned systems weighing from 10 to 12,500 pounds. QNA's family of robots includes small, medium and large unmanned vehicles that can be configured for specific tasks such as IED defeat, CBRNE/hazmat detection and identification, reconnaissance, combat engineering and SWAT/MP unit assistance. Whether the mission is supporting a bomb squad protecting life and property in an urban environment or a dismounted warfighter assessing threats, QNA's robots deliver.
Operating as the U.S. component of QinetiQ's Global Products division, QNA's Technology Solutions business unit is a world leader in robotic technology solutions that save lives in defense, security and first responder environments. For more information, please see our website www.qinetiq-na.com, read our blog techblog.qinetiq-na.com and follow us on Facebook www.facebook.com/qinetiqna or Twitter www.twitter.com/QinetiQNorthAm.
About QinetiQ North America
QinetiQ North America (QNA) is a subsidiary of QinetiQ Group plc, the FTSE250 company listed on the London Stock Exchange (LSE:QQ.L). Operating in North America, QNA delivers world-class technology, responsive services, and innovative solutions for global markets, focusing on U.S. government and commercial customers. Its engineers, scientists and other professionals deliver high quality products and services that leverage detailed mission knowledge and proven, reliable tools and methodologies to meet the rapidly changing demands of national defense, homeland security and information assurance customers. QNA is headquartered in Reston, Virginia. For more information visit www.qinetiq-na.com and join our conversation at www.facebook.com/qinetiqna.
Featured Product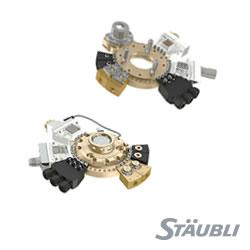 TX2 robots: redefining performance by offering collaborative safety and high performance in a single machine. These pioneering robots can be used in all areas, including sensitive and restrictive environments, thanks to their unique features. Safety functions are easy and inexpensive to implement. They allow a higher level of interactions between robots and human operators, while still guaranteeing protection of your people, production and investment.