Seegrid has experienced a 350% year-over-year sales increase of its robotic industrial trucks.
PITTSBURGH, PA-Seegrid, manufacturer of vision-guided automated vehicles for the material handling industry, was just given the 2013 Manufacturer of the Year Award from the Pittsburgh Business Times. Justine Coyne, writer for the Pittsburgh Business Times reported, "Seegrid, which manufactures automated vision-guided pallet trucks, tow tractors and walkie stackers (pedestrian walk-behind stackers), has 68 employees, but is rapidly expanding both its head count and its physical plant location. In 2013, the company's workforce increased by more than 10 percent, and it expects hiring to continue strong through 2020."

Anthony Horbal, CEO of Seegrid accepted the award and thanked his dedicated team members for their hard work, vision, and passion(http://www.bizjournals.com/pittsburgh/video/BiMnk3aTofn7Fzx-5uJLnmId0eDsYLz-?autoplay=1). Horbal also commented, "What sets Seegrid apart is the flexibility of its technology, which allows systems to operate without the need for wire, laser tape, or magnets. Its systems can be delivered in the morning and up and running in a facility by the afternoon. Seegrid recently instituted a 'try before you buy' program that allows potential customers to see the technology in action in their own facility."
Seegrid has experienced a 350% year-over-year sales increase of its robotic industrial trucks. Even stronger growth is anticipated in 2014 as the company embarks on international sales in Europe and the Middle East.
Pittsburgh Business Times provides the latest breaking business news, updated throughout the day, some of this week's top stories from Pittsburgh Business Times and other popular features from the print edition. Subscribers receive daily business news updates, latest news of 17 industries, dozens of popular topics from around the nation and the latest networking and marketing alerts.
About Seegrid:
Seegrid Corporation (www.seegrid.com) provides simple, affordable, flexible vision-guided automated guided vehicles (AGVs) to the material handling industry. Seegrid robotic industrial trucks, flexible AGVs, are revolutionizing the movement of materials in manufacturing and distribution environments. Seegrid automated pallet trucks and tow tractors optimize workflow processes by increasing productivity and reducing costs, creating economic and operational advantages. Robotic industrial trucks deliver a rapid return on investment, improve facility safety, and reduce equipment and product damage. In addition to Manufacturer of the Year, Seegrid also awarded the Gold Medal Award at the WBT Innovation Marketplace 2013 competitive event. Fast Company magazine named Seegrid as one of the Top 50 World's Most Innovative Company in 2013 and among the Top 10 World's Most Innovative Robotics Company in 2013. Follow Seegrid Corporation on Twitter at @Seegrid.
Featured Product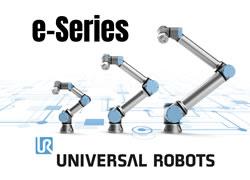 With the new e-Series cobot line, Universal Robots raises the bar for cobots, adding unique new features while significantly strengthening the four core principles defining collaborative robots: fast set-up, easy programming, flexible deployment, and safe operation. With a new built-in, tool-centric Force/Torque sensor the e-Series is ready to take on applications requiring force control right out of the box. A repeatability of 30 micron means the new cobots are suitable for very precise finishing, assembly and electronics tasks. A re-designed user interface decreases cognitive load and expedites program development, while a new externally accessible, 500Hz system bus enables more complex motion control algorithms or profiles.