Festo is a leading world-wide supplier of pneumatic and electrical automation technology.
Sercos International, supplier of the Sercos® automation bus, announced that Festo Corporation of Hauppauge, New York has joined Sercos N.A., the North American promotional alliance for the Sercos interface®, as an associate member.

Festo is a leading world-wide supplier of pneumatic and electrical automation technology and is a performance leader in industrial training and education programs. The company offers industrial and process automation, components and solutions in 176 countries throughout the world. Their aim: maximized productivity and competitiveness for their customers.
Frank Langro, Director of Marketing & Product Management at Festo Corp, feels that "by becoming a member we at Festo will be able to bring the perspective of an automation supplier who has an integrated product line that includes controls, drives, and I/O devices, making this an ideal fit."
About Sercos International
Sercos International is an association of users and manufacturers that is in charge of technical development, standardization, certification and marketing for the Sercos automation bus. Conformance tests ensure that implementations of Sercos are in accordance with standards and thus allow the combination and integration of devices from different manufacturers. Based in Germany, the organization presently has more than 80 member companies located around the world and has liaison offices in North America and Asia.
About Sercos
The SErial Realtime COmmunication System, or Sercos, is one of the world's leading digital interfaces for communication between controls, drives, and decentralized peripheral devices. Sercos has been used in machine engineering for more than 20 years and is implemented in over 4 million real-time nodes. With its open, manufacturer-independent Ethernet-based architecture, Sercos III is a universal bus for all automation solutions.
Featured Product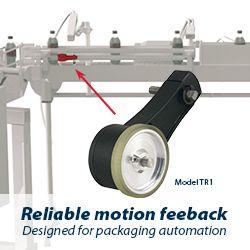 EPC is excited to announce our NEW online 3D Configurator. This new tool makes it even easier to configure EPC's products exactly how you need them for your application. The 3D Configurator interface is intuitive and works in any web browser for both desktop and mobile. It'll only take you a moment to learn your way around the program. Careful, though: it's so fun to play with, you may spend a whole afternoon on it!