Manufacturers begin to build 3D value chains, underpinned by new investment in four pillar technology
FRAMINGHAM, Mass.--IDC Manufacturing Insights today hosted a Web conference, IDC Manufacturing Insights Predictions 2014: Worldwide Manufacturing, highlighting the top 10 predictions for the year ahead. Featuring analysts Robert Parker, Heather Ashton, Sheila Brennan, Simon Ellis, Kimberly Knickle, Pierfrancesco Manenti, and Amy Rowell, the session provided organizations with insight and perspective on long-term industry trends along with new themes that may be on the horizon. The Predictions Web Conference Series is designed to help company leaders capitalize on emerging market opportunities and plan for future growth. An audio replay of today's Web conference will be available within 24 hours. To access the replay, please visit http://bit.ly/IDCMI_WWManufacturing_Predictions2014.

ClicktoTweet: IDC Manufacturing Insights Releases Top 10 Predictions for 2014
The IDC Manufacturing Insights Top 10 Predictions for 2014 are:
*Prediction #1: Manufacturers will begin to build 3D value chains.
*Prediction #2: Operational, information, and consumer technology converge to reshape approaches to technology management.
*Prediction #3: Operational resiliency will be the focus of supply chain strategies in 2014 and beyond.
*Prediction #4: Supply chain technology investment will involve modernizing existing systems, while also trying new approaches.
*Prediction #5: The modernization of the underlying B2B commerce backbone becomes an investment priority for IT.
*Prediction #6: Product lifecycle management (PLM) strategies become increasingly global, multidisciplinary, innovation-based, and customer-focused.
*Prediction #7: PLM initiatives will focus on value realization.
*Prediction #8: "Servitization optimization" will be core to future profitable revenue growth and leading manufacturers will make the necessary investments to enable these strategies.
*Prediction #9: On their way towards the factory of the future, 2014 will set the stage for a new manufacturing renaissance.
*Prediction #10: Plant floor IT investments will continue to become a higher share of the overall technology investment portfolio.
"The manufacturing industry has an established track record of continuously improving productivity and is at the cusp of a new wave of gains that will dramatically restructure value chains to be closer to demand regardless of direct labor costs. This is being driven by an 'intelligent economy' where customers are more informed, talent is at a premium, and the time to react to changes is compressed," said Robert Parker, Group Vice President and General Manager, IDC Manufacturing Insights. "In 2014, companies should put together a set of business initiatives across critical line of business areas such as supply chain, factory operations, product management, and customer experience/aftermarket services, and follow a progression toward the principles of the '3D' value chain, the theme for our 2014 predictions."
For additional information about these predictions or to arrange a one-on-one briefing, please contact Sarah Murray at 781-378-2674 or sarah@attunecommunications.com. Reports are available to qualified members of the media. For information on purchasing reports, contact insights@idc.com; reporters should email sarah@attunecommunications.com.
About IDC Predictions
A hallmark of IDC's offering for three decades, the annual Top 10 Predictions reports provide our outlook on the IT market, across industries, for the coming year. During the next 60 days, IDC will publish dozens of Top 10 Predictions documents and host more than 50 events looking ahead at 2014. Please visit http://www.idc.com/predictions2014 for a complete listing.
About IDC Manufacturing Insights
IDC Manufacturing Insights assists manufacturing businesses and IT leaders, as well as the suppliers who serve them in making more effective technology decisions by providing accurate, timely, and insightful fact-based research and consulting services. Staffed by senior analysts with decades of industry experience, our global research analyzes and advises on business and technology issues facing asset intensive, brand oriented, technology oriented, and engineering oriented manufacturing industries. International Data Corporation (IDC) is the premier global provider of market intelligence, advisory services, and events for the information technology market. IDC is a subsidiary of IDG, the world's leading technology, media, research, and events company. For more information, please visit www.idc.com/manufacturing, email info@idc-mi.com, or call 508-988-7900. Visit the IDC Manufacturing Insights Community at http://idc-insights-community.com/manufacturing.
Featured Product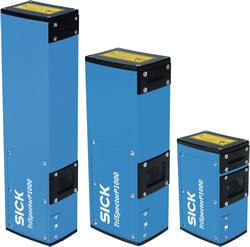 LiDAR (Light Detection and Ranging) is one of the most reliable methods for parts sensing in factory automation today. SICK has made this technology affordable and easy to use! Click on the video link below to learn about the TiM1xx LiDAR sensor and how it provides: - Area scanning LiDAR technology in a standard sensor package - 200-degree field of view and 3 meter sensing range allows for 169 square feet of area scanning - Compact size and light weight enables ease of deployment in "non-standard" type applications, like end-of-arm robotic tooling - Wide area scanning without having to mount a transmitter and receiver makes installation much easier - IO Link for easy configuration