L-3 AOC provides advanced optical solutions & assemblies for global commercial/military markets. Products include thin-film coatings, optical assemblies, laser-protection filters, precision-optical assemblies, optical components, large-format optical thin-film coatings, thin-film patterning,& more.
L-3 Communications Applied Optics Center (L-3 AOC - www.L-3com.com/aoc) designs and manufactures extremely complex thin film coatings and optical assemblies for a wide variety of defense and commercial applications. The company has a rich, 50-year history of manufacturing highly reliable optical systems for military applications, and is one of the largest manufacturers of laser protection filters and related optical assemblies, binoculars, and sighting systems for the U.S. Army. AOC is now using that broad experience to provide optical solutions for commercial markets worldwide, as well.

The Company's unique capabilities are based on its ability to design, validate and produce high-volume, high-layer-count (up to 250+ discrete layers) thin film coatings, as well as custom optical assemblies and components, large-format optical coatings, thin film patterning, and rapid component/subassembly prototyping for a broad range of global markets including instrumentation, display, biomedical/medical, imaging/sensing, display, defense/aerospace, and astronomy.
As an example of this depth of knowledge and turnkey manufacturing expertise, L-3 AOC's MELIOS rangefinder assembly, thousands of which were delivered, included eight discrete optical elements, each with a unique, application-specific optical coating. Each element was fabricated, optically-bonded and calibrated at AOC to precise customer specifications.
L-3 AOC's proprietary 1- and 2-meter coating chambers are able to coat volumes and large-element geometries not possible in most other common thin film deposition chambers. This unique capacity is an important asset to customers who require cost effective yet precise high-layer-count, high-volume thin film solutions, or the flexibility of depositing a variety of thin films on large-format, high-value specialty substrates.
With its extensive experience in the design and development of coatings and assemblies based on specific customer requirements, the AOC is able to offer virtually any type of optical coating at regions of interest from the ultraviolet (UV) to the far infrared (IR), from 300 nm to 12 microns, with superior coating performance, durability, and environmental stability.
The company's remarkable track record includes worldwide deliveries of over 500,000 optical assemblies and laser protection filters without a single failure or return. For more information about L-3 Communications Applied Optics Center, please visit: www.L-3com.com/aoc .
L-3 Communications - Applied Optics Center (Photonics West Booth #2401)
Applied Optics Center
9827 Chartwell Dr
Dallas, TX 75243
PHONE: 401-885-2084 / +1 855-276-1110
FAX: 401-884-1579
EMAIL: info.aoc@L-3com.Lcom
WEBSITE: www.L-3com.com/aoc
Featured Product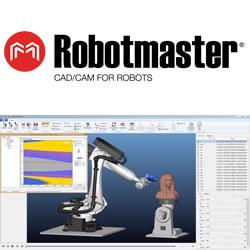 Since Robotmaster V7 uses integrated CAD/CAM functionality, for the first time, the power of Robotmaster can be used by welding, cutting and other process experts without buying or learning complex CAD/CAM software. As in past versions, Robotmaster V7 imports paths, but now makes it even easier for end users to leverage any CAD/CAM tool choice. It is an intuitive tool that anyone could use, with or without robotics expertise. It bridges the gap between robots and manufacturing by providing easy programming solutions for part manufacturing.