From unique creation to industrially manufactured designer piece
The works of art by acclaimed Israeli industrial designer and artist Yaron Elyasi can now be produced by a KUKA robot: what was once a one-off creation now forms the basis for industrially manufactured designer objects. For Elyasi, it's a dream come true: "Robot-based automation enables the consistent production of multiple units, whereas manual methods previously only allowed individual items to be made."

In addition, the customer can bring his own conceptions to the design of the objects, which then bear his mark and yet are fabricated in a precise manner. This novel method of art production recently made its debut at the KUKA Roboter GmbH booth at K 2013 in Düsseldorf.
The flexible 6-axis robots of the KUKA KR AGILUS series used here are compact and thus space-saving; they are among the fastest and most reliable of their class - and they meet all of the artist's requirements for automated production. The single-screw extruder (type ME B 30/4 with 30 mm screw diameter) was supplied by IDE.
At ETTO Design Lab near Tel Aviv, Elyasi had previously been making his artwork from recycled plastic using "Freemolding", a patented procedure he developed himself. In an extruder, plastic is pressed through a nozzle into a string of the desired length and thickness. The artist moves a mold - a bowl for example - beneath the nozzle in various directions, so that the plastic envelops the mold in distinct patterns. Once the plastic hardens, Elyasi has created a unique work of art.
Meanwhile, KUKA Robotics and Bernhard Ide GmbH & Co. KG, a specialist company from Swabia with more than 50 years of experience in building plastic extruders, have collaborated with ETTO Design Lab to develop an automated production system. It is no longer the artist, but rather a robot that moves the mold beneath the stream of plastic; in this case a robot from the KUKA KR AGILUS series. This innovation makes it possible to supply what was once a one-off item either in a limited edition of consistently high quality or as a mass-produced designer piece at low cost. Yaron Elyasi has a hopeful outlook: "I can imagine many more creative products that can be custom-made using a robotic production facility."
Featured Product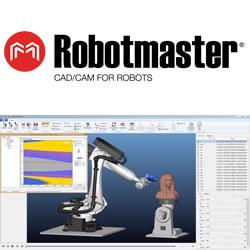 Since Robotmaster V7 uses integrated CAD/CAM functionality, for the first time, the power of Robotmaster can be used by welding, cutting and other process experts without buying or learning complex CAD/CAM software. As in past versions, Robotmaster V7 imports paths, but now makes it even easier for end users to leverage any CAD/CAM tool choice. It is an intuitive tool that anyone could use, with or without robotics expertise. It bridges the gap between robots and manufacturing by providing easy programming solutions for part manufacturing.