Team designs vary but incorporate similar technologies that could make robots practical and robust aides in future emergencies
The Atlas robot is an example of one of many innovative prototypes of disaster-response robots scheduled to compete in the DARPA Robotics Challenge (DRC) Trials that are taking place December 20-21 at the Homestead-Miami Speedway in Homestead, Fla.

While a number of the teams' robot designs embody different approaches, the designs also incorporate many of the same advanced technologies. Technologies include those that help the robots perceive, move through and perform tasks in simulated disaster environments, all with a human operator in the loop. The technologies also enable the robots' operators to see what the robots see and direct the robots in real time. Through the DRC, DARPA aims to advance robots' capabilities to help human responders in future emergencies.
The DRC Trials are free and open to the public. In addition to the competition, the onsite DRC Exposition will showcase technology related to disaster response, robotics and autonomy. It will include, among others, demonstrations of DARPA's "Wild Cat" (an untethered, all-terrain version of the "Cheetah" robot) and Legged Squad Support System (LS3). More information is available at www.theroboticschallenge.org.
Featured Product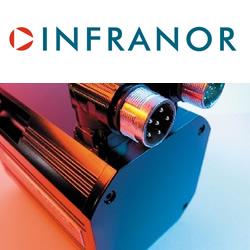 The XtraforsPrime or FP series of slotless brushless servo motors provide improved torque and power density compared to standard brushless servo motors. They are capable of very high speeds (30,000 RPM), smooth ZERO cogging motion, high effiecency and are availble in 8 frame sizes to fit your application needs. To learn more visit our website at www.infranorusa.com/xfprime or contact us at info@infranorusa.com or at (978) 988-9002.