Brooklyn-based 3D-printer-manufacturer Solidoodle will exhibit at 2014 Consumer Electronics Show in Las Vegas this week.
Brooklyn, NY January 06, 2014

Solidoodle is proud to showcase the all-new Solidoodle 4 3D printer at the 2014 Consumer Electronics Show in Las Vegas from January 7-10. The latest 3D printer from the Brooklyn-based manufacturer, the Solidoodle 4 combines elegant design with advancements in engineering for even higher performance and usability from the industry's value-leader.
Solidoodle CEO Sam Cervantes is scheduled to interview on the Engadget stage Friday morning at 10 am (PST) to discuss the latest news from the 3D printer manufacturer.
"This is our first year at CES and I'm excited to show off the new Solidoodle 4," says Mr. Cervantes. "It's magical to see our 3D printers work in person and I'm certain CES attendees will be blown away by the features and value this particular product offers. This 3D printer was designed especially with the mainstream consumer in mind."
Staff will be on hand throughout the show at the Solidoodle exhibit space for live 3D-printing demonstrations.
For more information about the 2014 Consumer Electronics Show, visit http://www.cesweb.org.
About Solidoodle
Solidoodle, founded in 2011 by aerospace engineer and 3D printing industry-veteran Sam Cervantes, builds the most affordable fully assembled 3D printers on the market for both professional and consumer use. Based in Brooklyn, New York, the company has shipped thousands of its 3D printers to customers all around the globe. For more information about Solidoodle, visit http://www.solidoodle.com.
Featured Product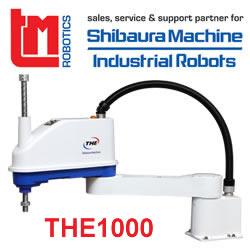 Designed for assembly and inspection applications in the electronics equipment and automobile components industries, the THE600 SCARA is a powerful automation tool. Advancing from the specifications of the existing THE400 SCARA, the THE600 has been developed to meet growing demand for fast-cycle automation. The THE600 model includes improvements in synchronised control and tracking precision. The THE600 is compact in design and offers improved high speed, with 60 per cent higher payload capacity than competing SCARA models in the same price range, making it the price-to-performance leader. Affordable price, impressive performance.