Cornell University startup now selling industrial grippers to manufacturing and industrial automation companies.
The exciting robotic gripping technology that has been given many names now has one that's sure to stick: VERSABALL®.

You may have seen it called a "universal jamming gripper," "coffee gripper," "granular gripper," or even "bean-bag gripper," but Empire Robotics, Inc. -- the Cornell University spinout company that has been working to commercialize the technology for the last year -- now wants to set the record straight.
The company announced Tuesday that it is now taking orders for the limited first release of its VERSABALL grippers scheduled to ship later this month.
Robotic grippers that "jam" granular materials by vacuum-packing first made a splash in 2010 as part of a DARPA-funded collaboration between researchers at Cornell, the University of Chicago, and iRobot. The science behind the gripper is a physical phenomenon called the jamming transition, through which granular materials or particles, which can flow and act like a fluid when loosely packed, can also interlock to become rock-solid when packed together.
This phenomenon is familiar to coffee drinkers who have ever bought vacuum-packed coffee, which is hard as a brick until the package is unsealed. In fact, early jamming gripper prototypes were composed of ground coffee inside a party balloon.
VERSABALL grippers take advantage of this jamming behavior so that when the gripper is soft, it can be pressed against an object -- passively conforming to take the object's shape. The gripper then vacuum-hardens to grasp the object firmly. It's a sharp deviation from the way other robot grippers work, but this simple idea is now poised to solve a broad range of automation challenges.
John Amend, Co-founder and CTO of the company developed much of the core technology as a Ph.D. student at Cornell. "With our grippers we're able to handle a wide range of different objects on the same manufacturing line. We get a lot requests for objects with holes in the center like hex-nuts, glass or plastic bottles, and objects that have odd shapes or shapes that vary between the individual parts."
Empire Robotics was founded in 2012 and has been quietly working on product development since the company won a National Science Foundation Small Business Innovative Research (NSF SBIR) grant in January, 2013. The company has already delivered a handful of prototype grippers to early customers and is also developing customized solutions for others.
Company President and Co-founder Bill Culley is excited by the response. "We started this company because of the large number of requests that were coming in looking for a commercial unit to purchase," he said. "There's no question that the industrial automation market is moving toward solutions that are more versatile, adaptive, and agile. Our VERSABALL gripper should make a big impact in this space."
The company believes the technology might have broader impacts as well, including prosthetic devices that can assist with work tasks, in-home assistive devices, and versions suited for mobile military robots. For now, though, they are focused on continual performance improvements for their industrial model.
"We've come a long way in the short time we've been working to commercialize this gripper," Amend said. "We've already made big advances in durability, holding force, and actuation speed."
As for the materials, "Yes, we're well beyond party balloons and ground coffee now."
Featured Product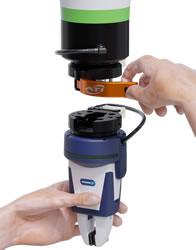 Simpler, stronger, and more precise. ATI Industrial Automation has developed a series of Manual Tool Changers that provides a cost-effective solution for quickly changing tools by hand. They feature a unique design that combines high strength, excellent repeatability, and a patent-pending screw-cam locking mechanism with multiple fail-safe features, which resists vibration and prevents loosening. These robust and compact Manual Tool Changers can handle payloads up to 80 pounds (36 kg) and pass pneumatics and electrical signals.