PTC Creo® Software used to Design High-School Competition Field and Kit of Parts
NEEDHAM, Mass.--Continuing with its mission to provide every day opportunities for students to develop real-world engineering skills, PTC (Nasdaq: PTC), today announced its continued support of FIRST ® (For Inspiration and Recognition of Science and Technology) and the FIRST ® Robotics Competition (FRC®). Building on previous years, PTC will support seven regional FRC competitions throughout the United States and Israel in addition to sponsoring 77 FIRST® Robotics Competition (FRC®) teams, 53 FIRST® Tech Challenge (FTC®) teams, and five FIRST® LEGO® League (FLL®) teams during the 2013-2014 season. The FIRST Robotics Competition field and kit of parts for the after-school STEM program were designed using PTC Creo® software.

The Georgetown Center on Education and the Workforce indicates there will be 2.4 million jobs created in STEM fields in the U.S. by 2018, but only 25 percent of high-school students today complete basic math and engineering course work. The need for more graduates in science, technology, engineering and math is felt by many global manufacturers, which makes it critical that programs such as FIRST are successful to build a qualified work force and fill the pipeline of future engineers.
PTC and NASA were the 2014 FRC Kickoff Sponsors at an event that was held on Saturday, January 4, 2014. The FRC season robotics game was unveiled during a live broadcast to approximately 70,000 global participants courtesy of NASA on NASA Robotics and NASA TV.
"As a long-standing Strategic Partner of FIRST, PTC remains fully committed to the values and goals of the organization by inspiring young people's interest and participation in science and technology," said Don Bossi, president, FIRST. "PTC works very hard to connect FIRST students to mentors not only with its 6,000 employees, but also with their 27,000 global manufacturing customers so that students worldwide can develop the engineering skills that are in high demand from these organizations."
FIRST reaches an estimated 300,000 students worldwide annually. FIRST designs accessible, innovative, mentor-based STEM programs for K-12. These programs inspire young people to think, design and create something physical using their engineering knowledge and skills. As a Strategic Partner of the FIRST Progression of Programs for K-12, PTC provides free software, including PTC Creo®, PTC Mathcad® and PTC Windchill® software to all participating FIRST teams. PTC Windchill has been available in the cloud to FRC and FTC teams since 2008 allowing thousands of students, along with their teachers and professional mentors, to collaborate on their designs anytime, anywhere.
"FIRST is the cornerstone of our Shared Value program because it delivers value on the basic premise that our job is to make an investment for the future by supporting the communities around our global offices," said John Stuart, senior vice president global education, PTC. "FIRST is one of the best investments PTC can make because it will ultimately build a global workforce of engineers, which will help our customers achieve and maintain a competitive advantage. We're proud to continue our support of FIRST and we wish the best for all the teams that participate in this year's competition."
Scott McDowell, coach for team #4140 Fish in the Boat, said, "Having the opportunity to guide these students toward careers around science and technology is very rewarding. This high school team is learning how to use PTC software in a real world design environment, which will help them better understand and apply the same design and collaboration principles used in a global manufacturing environment."
About FIRST®
Accomplished inventor Dean Kamen founded FIRST® (For Inspiration and Recognition of Science and Technology) in 1989 to inspire an appreciation of science and technology in young people. Based in Manchester, N.H., FIRST designs accessible, innovative programs to build self-confidence, knowledge, and life skills while motivating young people to pursue opportunities in science, technology, and engineering. With support from three out of every five Fortune 500 companies and nearly $18 million in college scholarships, the not-for-profit organization hosts the FIRST® Robotics Competition (FRC® ) for students in Grades 9-12; FIRST® Tech Challenge (FTC® ) for Grades 7-12; FIRST® LEGO® League (FLL® ) for Grades 4-8; and Junior FIRST® LEGO® League (Jr.FLL®) for Grades K-3. Gracious Professionalism® is a way of doing things that encourages high-quality work, emphasizes the value of others, and respects individuals and the community. To learn more about FIRST, go to www.usfirst.org.
About PTC (http://www.ptc.com)
PTC (Nasdaq: PTC) enables manufacturers to achieve sustained product and service advantage. The company's technology solutions help customers transform the way they create and service products across the entire product lifecycle - from conception and design to sourcing and service. Founded in 1985, PTC employs over 6,000 professionals serving more than 27,000 businesses in rapidly-evolving, globally distributed manufacturing industries worldwide. Get more information at www.ptc.com.
Featured Product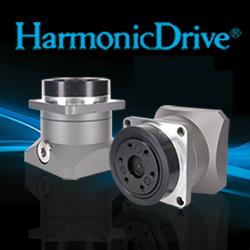 Harmonic Drive LLC, a leader in high precision motion control introduces new lightweight versions of select gearhead products. The new gearheads are ideal for designs where weight is a critical factor. Building on the success of Harmonic Drive LLCs current gear units, new lightweight versions were the next logical evolution of the CS/ SH product lines. With weight reductions of 20-30% without any reduction in torque ratings, the Lightweight (LW) gear units provide exceptional torque density.