iPORT™ SB-GigE and SB-U3 external frame grabbers simplify cabling and allow Sony block cameras to be used with a broader selection of computing platforms for medical, robotics, and security applications
Pleora Technologies, the world's leading supplier of high-performance video interfaces, today introduced new external frame grabbers that help imaging system manufacturers and integrators reduce costs, simplify cabling, and speed time-to-market by converting Sony block cameras into GigE Vision 2.0™ or USB3 Vision™ cameras.

The iPORT™ SB-GigE and SB-U3 external frame grabbers transmit video with low, consistent latency at high frame rates between Sony block cameras and computing platforms or display panels. The video, along with power and control data, is transmitted over low-cost Ethernet or USB 3.0 cabling to existing ports on the computer or display. With Pleora's external frame grabbers for Sony block cameras, designers choose from a broad selection of small form factor and low-power computing platforms, including laptops, embedded systems, and tablets.
In comparison, legacy Sony block video interfaces require multiple cables for video transmission and control, external power sources for cameras, and PCI frame grabbers to capture images at the PC or display. This results in more complex systems, longer design times, higher costs, and limited component selection.
"The iPORT SB-GigE and SB-U3 build on our extensive, field-proven expertise in developing video interfaces for the popular line of Sony block cameras," said John Phillips, senior manager, product management, Pleora Technologies. "Our newest plug-and-play external frame grabbers give imaging systems manufacturers using Sony block cameras a low-risk way to leverage the design, cost and performance benefits of Ethernet or USB 3.0 for medical, robotics, and security applications."
Pleora will be showcasing the iPORT SB-GigE and SB-U3 External Frame Grabbers for Sony block cameras, along with its full portfolio of external frame grabbers and embedded hardware, at SPIE Photonics West 2014 in San Francisco, Feb 4-6, 2014. (Booth 4203)
Networking and reach advantages of GigE
The iPORT SB-GigE supports highly reliable, 1 Gb/s data transfer rates, while delivering a rich feature set that allows manufacturers to leverage the flexible networking, extended reach, and Power over Ethernet (PoE) advantages of Gigabit Ethernet (GigE).
The multipoint-to-point and point-to-multipoint networking flexibility of GigE means images from multiple Sony block cameras can be aggregated to a single port, and/or images from one Sony block camera can be multicast to multiple PCs and display panels. With the extended reach of GigE - up to 100 meters over standard CAT5e/6 cabling and further with basic network switching - image analysis equipment can be centralized in a remote location.
For example, video feeds from multiple Sony block cameras in a ship-to-shore crane can be converted to more manageable GigE Vision-compliant video, aggregated at a basic network switch, and transmitted over a single Ethernet cable to remotely located control and monitoring equipment.
In a networked hospital operating room, the SB-GigE can help preserve capital investments in cameras, sensors, and processing systems - while enhancing outcomes - by delivering the performance advantages of Ethernet. The SB-GigE converts images from a Sony block camera in a lamp head into a GigE Vision-compliant video stream that is transmitted over the Ethernet connection to processing, analysis, display, and recording equipment located outside the sterile environment. Images from multiple sources, such as video radiography equipment, can be transmitted simultaneously over the networked real-time video system, simplifying the design of multi-screen applications and eliminating the need for legacy point-to-point interfaces.
Reducing system complexity
In applications requiring higher bandwidth transmission over shorter distances, the iPORT SB-U3 supports 2 Gb/s data transfer rates, power over USB (PoUSB), and control over a USB 3.0 link.
By allowing the use of lighter-weight, lower-power computing platforms, the iPORT SB-U3 simplifies the design and extends the operating life of battery-powered imaging systems, such as medical telepresence robots. For multi-camera applications, including bin-picking or sorting robots on manufacturing lines, images from multiple Sony block cameras can be converted to USB3 Vision compliant video streams, aggregated with an off-the-shelf USB 3.0 hub, and transmitted over a single cable to image analysis and processing equipment.
Additional features and availability
The iPORT SB-Gig and SB-U3 External Frame Grabbers integrate a sophisticated onboard programmable logic converter (PLC) to allow users to precisely measure, synchronize, trigger, and control multiple Sony block cameras and imaging devices. The external frame grabbers are bundled with Pleora's feature-rich eBUS™ SDK application tool kit to allow designers to rapidly prototype and deploy production-ready software.
The iPORT SB-GigE is now available, for full product details and ordering information visit http://www.pleora.com/our-products/frame-grabbers/iport-sb-gige. The iPORT SB-U3 is trialing with lead customers, with availability scheduled for the first quarter of 2014. To learn more, visit http://www.pleora.com/our-products/frame-grabbers/iport-sb-u3.
About Pleora Technologies
Pleora Technologies invented high-performance frame grabbers and embedded hardware for the delivery of video over Gigabit Ethernet, and leads the market in video interfaces for USB 3.0 and wireless. With this spirit of innovation, Pleora engineers reliable video interfaces for system manufacturers and camera companies serving the military, medical, and industrial automation sectors. Pleora provides end-to-end solutions that shorten time-to-market, reduce risk, and lower costs. We partner with customers and tailor our products to individual needs. Find out more at www.pleora.com.
For more information, contact:
Ed Goffin, Content Marketing Manager
Pleora Technologies Inc.
Tel: +1-613-270-0625, ext. 164
Email: ed.goffin@pleora.com
Twitter: @Pleora
Featured Product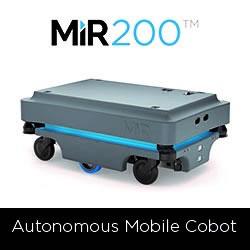 MiR200 is a safe, cost-effective mobile robot that automates your internal transportation. The robot optimizes workflows, freeing staff resources so you can increase productivity and reduce costs. MiR200 safely maneuvers around people and obstacles, through doorways and in and out of lifts. You can download CAD files of the building directly to the robot, or program it with the simple, web-based interface that requires no prior programming experience. With its fast implementation, the robots offers a fast ROI, with payback in as little as a year.