"The connection between mobile autonomous robots working the farm and integrated production data systems marks the beginning of a new era for the agriculture industry"
Jan. 21, 2014 - BILLERICA, Mass., and CONCORD, N.C. -

Harvest Automation Inc., the global leader and innovator in mobile autonomous robots for agriculture, and Practical Software Solutions, the premier provider of ERP systems to the Nursery and Greenhouse industry, announce the formation of a partnership to connect Harvest Knowledge robot data systems with the Grower Vertical for Sage ERP package to develop integrated production optimization tools.
Following on the heels of the successful introduction in 2013 of the revolutionary HV-100 plant moving robot, in 2014 Harvest Automation will launch Harvest Knowledge. Harvest Knowledge is a cloud-based data collection and analysis system which will allow robots to link the work that is being performed to the fields and plants they are working with and report this information back to growers and production planners. This will provide a comprehensive view of the work robots have completed, and a new tool to plan and optimize production.
Practical Software Solutions developed Grower Vertical in 2006, when Metrolina Greenhouses of Huntersville, N.C., approached the company to help create horticulture-specific functionality for their ERP system. Practical also provides integrated solutions for HR, Fixed Assets and CRM for the industry.
Grower Vertical provides a customizable, scalable, and full-featured enterprise management system designed for specific needs of the horticulture industry. Leveraging Sage ERP systems, Grower Vertical has been twice awarded Sage Customer Awards for innovation and customization.
"The connection between mobile autonomous robots working the farm and integrated production data systems marks the beginning of a new era for the agriculture industry," said John Kawola, Harvest Automation CEO. "We're thrilled to be partnering with Practical Software Solutions to provide growers with another tool to streamline operations and increase profit margins." This collaboration will create a seamless connection between Harvest Knowledge and Grower Vertical. With the connection between these two systems growers and production managers for Nurseries and Greenhouses will have the ability to optimize work on their operation, getting the right work done, on-time, reducing re-work, eliminating waste and increasing profit margins.
Vince Stamey, Practical Software Solutions CEO, echoed Kawola's sentiments.
"We are proud to stand with Harvest Automation in bringing the newest technology to the horticulture industry," Stamey said. "By adding another integrated solution to Grower Vertical, we are excited to help the industry find even more ways of managing their business across all aspects of their operation."
About Harvest Automation
Harvest Automation is the global leader in mobile autonomous robots for agriculture. Headquartered in Billerica MA, and founded in 2008 by a seasoned technology executive and a trio of robotics experts. The Company now comprises a multi-disciplined team of experts committed to revolutionizing agriculture. For more information please visit www.harvestai.com.
About Practical Software Solutions
Established in 1993 in Concord, N.C., Practical Software Solutions offers industry expertise in accounting, manufacturing, distribution, service management and professional services. The company's primary product offering is from Sage, the leader in business management solutions.
For more information please visit www.growervertical.com.
Featured Product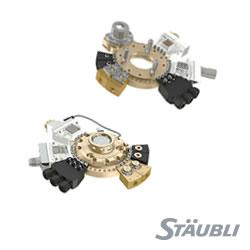 TX2 robots: redefining performance by offering collaborative safety and high performance in a single machine. These pioneering robots can be used in all areas, including sensitive and restrictive environments, thanks to their unique features. Safety functions are easy and inexpensive to implement. They allow a higher level of interactions between robots and human operators, while still guaranteeing protection of your people, production and investment.