In automation and robotics, many applications are characterized by high energy and high torque at the same time. Spatial restrictions also mean that drives must be short, have a long service life and be maintenance-free. The newly redesigned EC-i motors from maxon motors offer solutions that fit these requirements perfectly.

Compact yet powerful
These brushless DC motors have several key advantages: low inertia, minimal detent, robust bearings and compact construction. The use of high-powered permanent magnets ensures high power density, providing great speed stability under load.
These motors are available in 40 mm diameter and in two lengths, namely 26 mm (50 Watt) and 36 mm (70 Watt). The modular system with gearheads, encoders and controllers from the maxon delivery program offers a large number of possible combinations.
EC-i motors are ideally suited for applications that require maximum drive in a minimum space. Typical areas of application are robotics, industrial automation and security technology.
Featured Product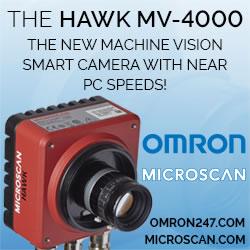 Space, or the lack of it, can be a challenge when placing barcodes or Data Matrix symbols on components. However, readable barcodes are critical to component traceability, time/date stamping, work in progress (WIP) tracking, and recall management. MicroHAWK UHD smart cameras can decode very small and difficult-to-read barcodes, including Data Matrix two-dimensional (2D) symbols and direct part marks (DPM). Users can rely on the MicroHAWK UHD to read symbols with an x-dimension almost invisible to the naked eye!