A new partnership between Draganfly Innovations and Pix4D is resulting in a new aerial system aimed at acquiring accurate aerial imagery for surveying, mapping, and 3D modeling terrain.
Saskatoon, SK January 22, 2014

Draganfly Innovations has partnered with Pix4D to combine the unique value of a Draganflyer sUAS (small Unmanned Aerial System) with the Pix4D software package. This results in a system capable of acquiring highly accurate aerial imagery for mapping, surveying, and creating 3D modeling.
The Draganflyer Mapping Solution is a "Pro Solution Pack" from Draganfly Innovations. Included is a Draganflyer Guardian or Draganflyer X4-ES aerial platform with a high resolution 20MP 1" sensor payload or Tetracam multispectral payload and Pix4Dmapper software.
The Draganflyer GCS (Ground Control Station) software generates preflight grid pattern flight plans which provide automated image overlap optimized for the Pix4Dmapper software. The system performs an automated grid search and stays within the confines of the grid to create square corners and eliminate over-flight of bordering property. The resulting images are processed by Pix4Dmapper to create stunning results.
Pix4D software converts thousands of aerial images, taken by the Draganflyer platform, into geo-referenced 2D mosaics and 3D surface models and point clouds. This innovative processing solution combines ideas from computer vision with the accuracy of traditional photogrammetry, achieving results with survey-grade accuracy and up to centimeter-grade, LiDAR-like 3D precision. Pix4Dmapper features advanced support of GCPs (Ground Control Points) for optimal geo-location and proposes both a "Full Processing" mode as well as a "Rapid Check" mode that lets you assess the quality of your acquired data while still on site. Output results can be imported seamlessly into any GIS (Geographical Information System), CAD (Computer Aided Design), or traditional photogrammetry software suite.
Pix4Dmapper includes the "rayCloud," a ground-breaking concept that combines the 3D point cloud generated by Pix4Dmapper with the original still images for easy viewing. The rayCloud editor lets users assess, edit, interpret, and improve their results directly in the software and allows for highly accurate object annotation and project accuracy improvement.
Pro Solution Packs will be offered by Draganfly in the second quarter of 2014, with the Draganflyer Guardian system or Draganflyer X4-ES system as the platform. A customer supplied Windows laptop is required to run Pix4D software at the job site and to perform preflight planning.
Draganfly Innovations, manufacturer of the first civilian small Unmanned Aerial System (sUAS) to be credited with saving a life, designs Draganflyer helicopters, the best aerial vehicles in the world, along with Draganview control software. A recognized technology and industry leader, Draganfly shapes the aerial imaging and public safety revolution with its gyro stabilized camera mounts. Draganfly has reinvented the Unmanned Aerial Vehicle and is defining the emergency services market with the Draganflyer Shadow and Draganflyer Guardian. For additional information, contact Draganfly Innovations at 1-800-979-9794, sales(at)draganfly(dot)com, or check out their website at http://www.draganfly.com.
Featured Product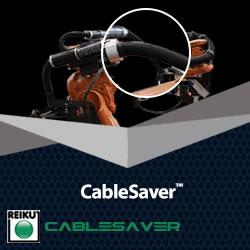 REIKU's Cable Saver™ Solution eliminates downtime, loss of revenue, expensive cable and hose replacement costs, maintenance labour costs. It's available in three sizes 36, 52 and 70 mm. All of the robots cables and hoses are protected when routed through the Cable Saver™ corrugated tubing. The Cable Saver™ uses a spring retraction system housed inside the Energy Tube™ to keep this service loop out of harms way in safe location at the rear of the Robot when not required. The Cable Saver™ is a COMPLETE solution for any make or model of robot. It installs quickly-on either side of the robot and has been tested to resist over 15 million repetitive cycles.