Colorado Springs-based 3 & 5 Axis CNC router designer & manufacturer, Diversified Machine Systems (DMS), introduces Fagor Automation's new Nanometer High Resolution Linear Encoders line. Fagor CNC Controllers are standard features on most DMS CNC Machine Centers.
Colorado Springs, CO January 28, 2014

Diversified Machine Systems, a leading US-based 3 & 5-axis CNC machine center designer and manufacturer in Colorado Springs, CO, introduces Fagor Automation's release of their Nanometer High Resolution Linear Encoders.
Fagor Automation Corporation has developed and introduced a new line of Linear Encoders capable of 50 nanometer resolution designed for high performance markets such as precision grinders and the EDM market. With the new product capability of achieving nanometric measurements directly from the encoder without the need for electronic interpolation, the encoders also deliver as a Metrology solution. The new encoders provide improved position, speed control and superior surface finish of the manufactured parts, giving considerably improved smoother machine axes positioning for added machine life.
The Nanometer Encoders have proven to be an excellent solution for high-speed linear motors, by improving the motors performance in terms of positioning accuracy and repeatability and smoothness due to the acute encoder resolution.
The new line of linear encoders is available in the Fagor G, S and SV series extrusion platforms. The Fagor G series is a full-sized robust extrusion capable of withstanding even the harshest of environments. The S & SV series utilize a more compact extrusion allowing for proper fitment within applications with limited space.
It should be mentioned, the G and SV series encoders incorporate the Patented TDMS® (Thermal Determined Mounting System) that allows for minimum error deflection regardless of the environment, by controlling the expansion and contraction of the scale. The positioning errors originating from machine mechanics are minimized, as the encoder is directly mounted to the machine surface and the guide ways. The encoder sends the real machine movement positional data to the CNC, therefore, mechanical errors due to thermal behavior, pitch error compensation, and machine backlash are minimized.
Nanometer Resolution Encoders are available in travels up to 3 meters after being subjected to an extensive final accuracy check. This control test is carried out on a computerized measuring machine equipped with a laser interferometer located inside a climate-controlled chamber. The printed result of each individual test is supplied with every Fagor Encoder. This allows Fagor Automation and Diversified Machine Systems to guarantee accuracy on each and every Linear Encoder sold.
This new product offering expands an already broad spectrum of Fagor Encoder products, which includes a large variety of Linear, Rotary & Angular encoders available in a selectable range of resolutions and accuracy, as well as a multitude of protocols including Absolute and Incremental.
Fagor Automation is a worldwide manufacturer of CNC Systems, Servo Motors & Drives, Feedback Systems & DRO Systems and is a strategic partner with Diversified Machine Systems (DMS). DMS delivers custom 3-Axis and 5-Axis CNC Routers that include Fagor CNC Controls as a standard offering on most CNC machines.
Learn more about DMS at DMSCNCRouters.com.
About Diversified Machine Systems
Diversified Machine Systems (DMS) is a leading designer and manufacturer of 3 & 5-axis CNC routers & custom machining centers, with headquarters in Colorado Springs, CO. With more than 30 years of innovation and industry experience as an Original Equipment Manufacturer, DMS' line of CNC routers and machining centers are routinely used on materials such as wood, composites, aluminum, steel, plastics, and foams. Renowned for quality and precision, our advanced machining centers are engineered to increase efficiency and productivity, while maintaining the quality and precision our clients have come to expect from DMS.
Be sure to connect with us socially for CNC news and tips:
Twitter.com/DMSCNCRouters
YouTube.com/DMSCNCRouters
Instagram.com/DMSCNCRouters
Facebook.com/DMSCNCRoutersandMachineCenters
Featured Product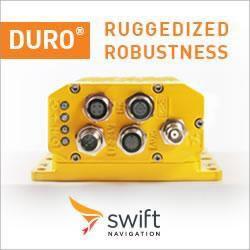 Duro® and Duro Inertial are enclosed dual-frequency RTK GNSS receivers. Designed and built to survive long-term, outdoor deployments, the easy-to-deploy Duro and Duro Inertial combine centimeter-accurate positioning with military ruggedness at a breakthrough price. Duro Inertial features an integrated IMU for continuous centimeter-accurate positioning in the harshest of outdoor deployments.