The test involved driverless tactical vehicles navigating hazards and obstacles such as road intersections, oncoming traffic, stalled and passing vehicles, pedestrians and traffic circles in both urban and rural test areas.
DALLAS, Jan. 30, 2014 -- The U.S. Army Tank-Automotive Research, Development and Engineering Center (TARDEC) and Lockheed Martin (NYSE: LMT) have demonstrated the ability of fully autonomous convoys to operate in urban environments with multiple vehicles of different models.

The demonstration earlier this month at Fort Hood, Texas, was part of the Army and Marine Corps' Autonomous Mobility Applique System (AMAS) program, and marked the completion of the program's Capabilities Advancement Demonstration (CAD). The test involved driverless tactical vehicles navigating hazards and obstacles such as road intersections, oncoming traffic, stalled and passing vehicles, pedestrians and traffic circles in both urban and rural test areas.
"The AMAS CAD hardware and software performed exactly as designed, and dealt successfully with all of the real-world obstacles that a real-world convoy would encounter," said David Simon, AMAS program manager for Lockheed Martin Missiles and Fire Control.
The AMAS hardware and software are designed to automate the driving task on current tactical vehicles. The Unmanned Mission Module part of AMAS, which includes a high performance LIDAR sensor, a second GPS receiver and additional algorithms, is installed as a kit and can be used on virtually any military vehicle. In the CAD demonstration, the kit was integrated onto the Army's M915 trucks and the Palletized Loading System (PLS) vehicle.
"It was very important that we had representation from the technology, acquisition and user bases, along with our industry partners, here at the CAD," said TARDEC technical manager Bernard Theisen. "We are very pleased with the results of the demonstration, because it adds substantial weight to the Army's determination to get robotic systems into the hands of the warfighter."
Senior Army leaders representing the Army Materiel Command (AMC), the Army Capabilities Integration Center (ARCIC), the Combined Arms Support Command (CASCOM) and TARDEC were present to witness the demonstration. The AMAS CAD was jointly funded by ARCIC and Lockheed Martin. While the AMAS JCTD is aimed at augmenting the safety and security of human drivers in a convoy mission, the CAD was aimed at completely removing the Soldier from the cab.
For more than three decades, Lockheed Martin has applied its systems-integration expertise to a wide range of successful ground vehicles for U.S. and allied forces worldwide. The company's products include the combat-proven Multiple Launch Rocket System (MLRS) M270-series and High Mobility Artillery Rocket System (HIMARS) mobile launchers, Havoc 8x8, Common Vehicle, Light Armored Vehicle-Command and Control, Warrior Capability Sustainment Programme, Joint Light Tactical Vehicle (JLTV) and pioneering unmanned platforms such as the Squad Mission Support System (SMSS).
Headquartered in Bethesda, Md., Lockheed Martin is a global security and aerospace company that employs approximately 115,000 people worldwide and is principally engaged in the research, design, development, manufacture, integration and sustainment of advanced technology systems, products and services. The Corporation's net sales for 2013 were $45.4 billion.
ABOUT TARDEC
Headquartered at the U.S. Army Detroit Arsenal in Warren, Mich., TARDEC is a major research, development and engineering center for the Army Materiel Command's Research, Development and Engineering Command and an enterprise partner in the TACOM Life Cycle Management Command. TARDEC is the Nation's laboratory for advanced military automotive technology and serves as the Ground Systems Integrator for all Department of Defense (DOD) manned and unmanned ground vehicle systems. With roots dating back to the World War II era, TARDEC is a full life-cycle, systems engineering support provider-of-first-choice for all DOD ground combat and combat support weapons, equipment and vehicle systems. TARDEC develops and integrates the right technology solutions to improve current force effectiveness and provides superior capabilities for future force integration. TARDEC's technical, scientific and engineering staff lead cutting-edge research and development in Ground Systems Survivability; Power and Mobility; Ground Vehicle Robotics; Force Projection; and Vehicle Electronics and Architecture.
For additional information, visit our website: http://www.lockheedmartin.com
Stay in touch with TARDEC online for current news, information and updates!
http://tardec.army.mil www.facebook.com/TARDEC www.twitter.com/TARDEC_PAO
Featured Product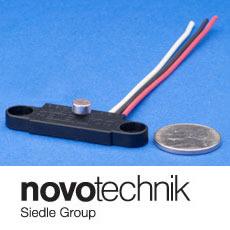 Vert-X 05E Series of dual angle/speed sensors. The series features easy mounting in small and narrow spaces with a 5 mm body depth and mounting flanges with metal inserts. The sensors make measurements only 6 mm from edge of product for close-to-wall measurement applications. Vert-X 05E Series sensors measure angles from 0 to 360°, rotational speed and direction with repeatability to 0.1°.