Rockwell Automation announces the new Allen-Bradley Micro820 programmable logic controller (PLC), a new addition to the Allen-Bradley Micro800 PLC family. The 20-point Micro820 controller features embedded Ethernet and serial ports, and a microSD slot.
Pulse-width modulation (PWM) output and recipe management makes it ideal for small machines, such as stretch wrappers and compressor control. Datalogging, analog and thermistor temperature inputs are essential for remote automation applications, including water-pump control and air-handling units.

"We will continue to develop the Micro800 platform to give small-machine builders the flexibility to customize designs according to their application needs," said Melkote Srinivasan, senior business manager, Rockwell Automation. "The new Micro820 controller, LCD display, plug-in modules and Connected Components Workbench software Release 6.0 have the features and options that help them differentiate their offerings and be more competitive."
Connected Components Workbench software simplifies the configuration, design and maintenance of the Micro820 controller. The latest version of the software adds support for additional machine devices, like the new Allen-Bradley Guardmaster 440C-CR30 configurable safety relay and Allen-Bradley Kinetix 3 component servo drive. This release also provides password protection for application code, and improved investment protection via a friendly controller upgrade tool and multiple project sessions to collaborate between them. For those new to building machines, the software is a free download and offers built-in tutorials, manuals and user assistance.
Micro800 remote 3.5-inch LCD display. An essential accessory to the Micro820 controller, the Micro800 LCD display supports up to eight lines of ASCII text with a four-color backlight, has a keypad with programmable function keys, and is rated IP65 for mounting through a cabinet door when used as a simple operator interface. The display shows customized application-diagnostics messages and text. Its system menu is available in several languages and allows machine builders to directly view and edit program variables, and set the controller's Ethernet address. The embedded USB port serves as a programming port to the controller.
Micro800 DeviceNet scanner plug-in module. The new Micro800 DeviceNet scanner plug-in option for the Micro800 family of controllers supports up to 20 nodes of Allen-Bradley PowerFlex AC drives or Allen-Bradley CompactBlock LDX I/O. This reduces the costs of wiring and installation inside the cabinet for standalone machine applications, and outside the cabinet for conveyor applications with drives and I/O distributed over longer distances. Auto-scan and device-specific function blocks simplify programming and configuration, and make network diagnostics easier.
Micro800 motion high-speed counter plug-in module. The new Micro800 motion high-speed counter plug-in option allows machine builders to cost-effectively add high-speed counters to Micro800 controllers. Used with the Allen-Bradley Micro830 or Micro850 controller's PTO axis, the plug-in provides position feedback from the servo drive for position verification or with an encoder for position and velocity monitoring. It supports both 5V differential line driver input up to 250 kHz and 24V DC input up to 100 kHz.
For more information on Connected Components Workbench software, and the Micro820 and Micro800 PLC family, visit http://www.ab.com/programmable-controllers/micro800 or contact your local Allen-Bradley distributor.
Source: http://www.rockwellautomation.com/
Featured Product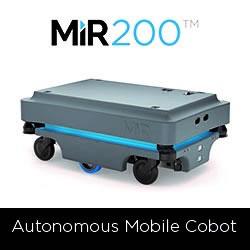 MiR200 is a safe, cost-effective mobile robot that automates your internal transportation. The robot optimizes workflows, freeing staff resources so you can increase productivity and reduce costs. MiR200 safely maneuvers around people and obstacles, through doorways and in and out of lifts. You can download CAD files of the building directly to the robot, or program it with the simple, web-based interface that requires no prior programming experience. With its fast implementation, the robots offers a fast ROI, with payback in as little as a year.