High-speed floor-level and mid-speed robotic hybrids maximize efficiency and flexibility for retail-ready shelf and aisle displays
(CINCINNATI)-Intelligrated®, a leading North American-based automated material handling solutions provider, announces the release of two new additions to its hybrid palletizer family, the Alvey® 950F and Alvey 750 series. High-speed floor-level and mid-speed robotic hybrids maximize efficiency and flexibility for retail-ready shelf and aisle displaysBoth palletizers integrate robotic arms to perform flexible and accurate product handling and layer forming.

Ideal for applications with reduced primary or secondary packaging, the 950F and 750 series gently handle product to create stable single-SKU or mixed-SKU pallet loads and can satisfy retail-ready requirements, including labels-out configurations for end-of-aisle displays.
The floor-level model of Intelligrated's Alvey 950 series high-speed in-line hybrid palletizer, the 950F operates similarly to the standard model with the benefit of a floor-level infeed. This enables the 950F to connect with higher-speed production lines, maximizing existing manpower with packaging line personnel supervising palletizing operations and eliminating the need for long overhead conveyor runs.
The first mid-speed hybrid palletizer on the market, the Alvey 750 series handles small products exceptionally well, ideal for consumer packaged goods, health and beauty, and converted paper applications. The 750 delivers throughput speeds up to 50 cases per minute and features an optional in-hoist stretch bander or wrapper which enhances load stability, improves cost savings, and reduces floor space requirements.
"With these two additions, the Alvey family of palletizers offers the right capability for any palletizing operation," said Earl Wohlrab, robotics and palletizers product manager, Intelligrated. "We'll continue to build innovative solutions with the latest technology backed by the most dependable name in the industry."
Intelligrated now offers high-level mid-speed hybrid palletizers, as well as high- and low-level high-speed in-line hybrid models.
About Intelligrated
Intelligrated (www.intelligrated.com) is a leading North American-based, single-source provider of intelligent automated material handling solutions that drive distribution and fulfillment productivity for retailers, manufacturers and logistics providers around the world. Through a broad portfolio of automation equipment, software, service and support, Intelligrated solutions optimize processes, increase efficiency and give businesses a competitive edge.
Intelligrated designs, manufactures, integrates and installs complete material handling automation solutions including conveyor systems, sortation systems, palletizers, robotics and order picking technologies - all managed by advanced machine controls and software. Solutions include industry-leading Intelligrated-manufactured Alvey®, RTS™ and IntelliSort® brand equipment and Knighted warehouse management (WMS), warehouse control (WCS) and labor management software.
Every project is backed by Intelligrated's 24X7 multilingual technical support and access to lifecycle service through a network of national, regional and local service centers. From concept to integration to lifecycle support, Intelligrated automation delivers distribution and fulfillment success. For more updates, follow us on Twitter @Intelligrated.
Featured Product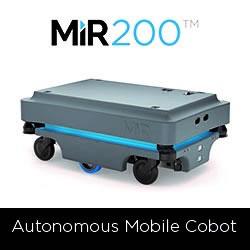 MiR200 is a safe, cost-effective mobile robot that automates your internal transportation. The robot optimizes workflows, freeing staff resources so you can increase productivity and reduce costs. MiR200 safely maneuvers around people and obstacles, through doorways and in and out of lifts. You can download CAD files of the building directly to the robot, or program it with the simple, web-based interface that requires no prior programming experience. With its fast implementation, the robots offers a fast ROI, with payback in as little as a year.