Ekso Bionics Holdings, Inc., a robotic exoskeleton company, today announced that it completed its private placement offering as part of its January 15, 2014 announced alternative public offering ("APO"). Shares of the Company's common stock are currently quoted on the OTC Markets under the symbol "EKSO."
"We are pleased at the interest we have received from investors in this APO financing." said Nathan Harding, the Company's Chief Executive Officer. "We originally targeted a financing in the range of $12-20 million. Given the level of interest from qualified individual and institutional investors we increased our offering to just over $30 million. We now have a large and committed investor base and will continue to define the industry for exoskeletons and develop break-through technology."

Ekso Bionics designs, develops, and commercializes exoskeletons, or wearable robots, which have a variety of applications in the medical, military, industrial, and consumer markets. Exoskeletons are ready-to-wear, battery-powered robots that are strapped over the user's clothing, enabling individuals to achieve mobility, strength, and endurance not otherwise possible.
Ekso Bionics' lead product, Ekso™, is a wearable bionics suit that enables individuals with any amount of lower extremity weakness to stand up and walk over ground. Ekso is forging a new frontier in rehabilitation for people living with the consequences of stroke, spinal cord injury and other neurological conditions affecting gait.
Steven Sherman, the Company's Chairman added, "I am very proud of the initial success of the Ekso in rehabilitation centers worldwide, as well as the recent surge of media awareness that explores the range of possibilities for bionic robots. We see a future with wearable robots that enable people to walk again, as well as enhance their daily lives."
With this closing, the Company has raised a total in gross proceeds of $30,300,000 through the sale of 30,300,000 units at a price of $1.00 per share. Each unit includes one share of the Company's common stock and a warrant to purchase one share of the Company's common stock at an exercise price of $2.00 per share for a five-year period. After giving effect to the final closing, there are approximately 78,500,000 shares of Company common stock outstanding.
Gottbetter Capital Markets, LLC was the exclusive placement agent for the offering, and EDI Financial, Inc. was a sub-agent. Lead investors included Opaleye L.P. and Montrose Capital Partners. Further details on the APO financing can be found in the Company's 8-K filing on January 23, 2014.
http://www.eksobionics.com
Featured Product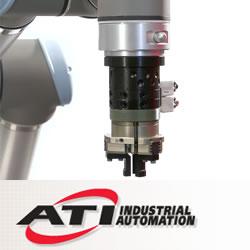 ATI Industrial Automation's MC-10 Manual Tool Changer provides a cost-effective solution for quickly changing tools by hand. Its compact yet robust design is optimized for collaborative robot applications. The ergonomic twist-collar locking mechanism ensures a secure attachment of the tool and easy manual operation with tactile feedback. This Manual Tool Changer can carry payloads of up to 22 lbs and includes multiple fail-safe features that resist vibration and prevent loosening. The MC-10 Manual Tool Changer has integrated air pass-through connections and options to connect electrical utilities if needed. ATI will feature the new MC-10 along with a variety of other robotic demonstrations and product displays at this year's IMTS show in Chicago (Booth #236417).