Anaheim Automation's recent addition to their Brush DC Gearmotor product line includes a worm gearbox configuration, providing more depth and versatility to their already broad line of spur and planetary gearboxes.
Anaheim, CA February 10, 2014

Already a supplier of a vast line of planetary and spur Brush DC Gearmotors, Anaheim Automation's latest product is unlike the rest of them. Their most recent launch entails a line of worm gearboxes, the first worm gear configuration they have offered in their product line since opening their doors over 45 years ago. Designed for high-volume OEM applications, these worm gearboxes sport an odd appearance, much different than the typical inline planetary and spur-configured gearmotors offered. The cylindrical motor is complimented by a pinwheel looking gearbox configured to mount perpendicular to the motor.
These gearboxes are offered in a wide range of sizes and gear ratios and are capable of delivering up to 850 oz-in of torque. Typically these gearmotors are used in rotary applications, including semiconductor, medical, robotics, CNC, pumps, and more. The recent addition to Anaheim Automation's Brush DC Gearmotor product line (http://www.anaheimautomation.com/products/brush/dc-gearmotors-list.php?cID=46) offers versatility, giving Anaheim Automation a well-rounded product line to offer to their users.
About Anaheim Automation:
Anaheim Automation, Inc. is a manufacturer and distributor of motion control products with over 45 years of experience. Combining enthusiasm, dedication, and innovation, Anaheim Automation strives to supply thousands of customers worldwide with the quality components they require to make their application succeed. Anaheim Automation surpasses competitors with their Stepper product offering, providing one of the largest in the industry. Vast lines of Brushless and Brush DC, Servo and AC motors, controllers and drivers are also offered at competitive prices. High-precision Gearboxes, Tables, Linear Guides, and more provide increased performance and efficiency. For more information about Anaheim Automation and their products, call 714-992-6990 or visit http://www.anaheimautomation.com.
Featured Product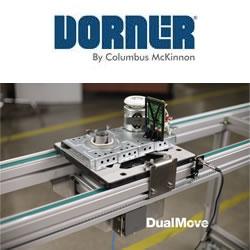 Dorner's 2200 Series Precision Move Pallet Systems are ideal for assembly automation. With features such as an innovative timing belt conveyor design and industry best pallet transfers, they get your product to the exact location, at the exact time and in the exact position it needs to be. They are now available with new options such as heavy load corner modules with 150 lb. capacity and 180 degree tight transfer corners for compact loops.