Rapid prototyping firm with a strong history in medical manufacturing and design takes its products and services to the Medical Device and Manufacturing West show in Anaheim, CA.
Costa Mesa, CA February 11, 2014

Medical device manufacturing is Mina Product Development's bread and butter. The Southern California rapid prototyping specialists started out building casting housings for medical products.
"Now we are a full service design, engineering, rapid prototyping and manufacturing partner for new and established brands," said CEO Babek Khamenian.
"We've been working on some exciting projects and are proud to attend the Medical Device and Manufacturing West show in Anaheim, CA this year to showcase our recent work and network with new partners," said Khamenian.
Mina Product Development has recently worked on projects like Bard Biopsy System's EnCor Enspire® Breast Biopsy System, a minimally invasive vacuum assisted needle biopsy tool used by surgeons to take a tissue sample of a patients tumor to screen for cancer. Mina Product Development designed all of the initial prototypes and the pilot production units for the housing.
Mina has over 26 years of experience working with medical partners needing components for various medical parts. Mina has collaborated with companies like Phillips Ultrasound, Advance Interventional Systems, and Abbot Medical Optics to help bring products to life.
Mina starts it's clients off with a 3-D printed prototype to get a basic model to see, touch and test. Then the model is duplicated with silicone molds. Once the silicone molds are made, clients are able to get as few as one sample or as many as a few hundred before they send off for final tooling. This saves Mina's clients money as changes at this phase are still financially feasible.
Mina Product Development has designed and manufactured medical equipment, aerosol actuators, golf clubs, cell phone cases, water bottles, military hardware, wearable technology, and party glasses among others. "We're incredibly excited to meet new partners at MDM and see where 2014 takes us," said Khamenian.
To learn more about Mina Product Development's rapid prototyping, you can visit them in person at the Medical Device and Manufacturing West show in Anaheim, CA. They are located at booth 1089. If you can't make the show you can visit their website at http://www.minaproducts.com or call their office at 714-966-2150.
Featured Product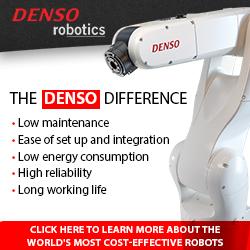 DENSO is the world's largest manufacturer - and user - of small assembly robots, employing over 17,000 of its robots in its own facilities. Over 77,000 additional DENSO robots are used by other companies worldwide. The compact, high-speed robots are used in traditional manufacturing sectors, as well as in advanced-technology applications in the medical, pharmaceutical and life sciences industries. Learn more about DENSO Robotics