Festo has been a reliable partner of Dutch industry for more than 45 years. With automation technology, Festo has become the market leader.
Festo has been a reliable partner of Dutch industry for more than 45 years. Mechanical and plant engineering, as used by highly specialised medium-sized companies, is the fastest-growing sector of industry in the Netherlands. With its automation and qualification solutions, Festo has become the market leader in this country with over 5,000 customers from a wide range of sectors. With its basic and advanced technical training programmes, Festo contributes to the qualification of its customers and reinforces the country's industry. This is clearly noticeable in this year's partner country at the Hanover Trade Fair: after several years of stagnation, the Dutch economy is now experiencing a turnaround.

Increasing propensity to consume and continuing confidence in the country's economy are supporting this growth, which is forecast to recover with an increase of 0.5% following a decline of 1% in 2013. The Delft-based national company of Festo with its 137 employees is also playing its part in this development.
Festo, a reliable partner of the leading enterprises of the Dutch manufacturing industry since 1967, supplies electric and pneumatic automation technology. Its customers include the food and packaging industry, the semiconductor industry, transportation for agriculture, and the water industry. Products and system solutions from Festo are used in the packaging of cheese and flowers, for example, and in the production of bicycles. "We are highly successful in this area too. We are the market leader and achieved an eight-percent growth in sales in 2013. The Netherlands is in a strong position in the fields of renewable energy and energy efficiency; these are areas in which Festo can draw on its core competencies," said Thomas Pehrson, Managing Director of Festo Netherlands.
As the world leader in basic and advanced technical training, Festo has now established a network of training centres in the Netherlands for Festo Authorized and Certified Training (FACT), where advanced technical training courses are offered. These centres make use of the latest technology, are on location in the major industrial regions of the Netherlands and offer their courses to local companies. By this means too, Festo is strengthening the Dutch economy and contributing to the country's economic upturn.
Featured Product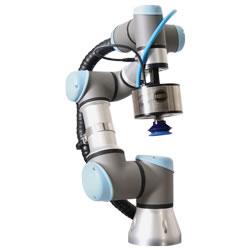 A variety of standard and custom options make the Bimba CRVT the perfect tool for your next collaborative robot project. This completely integrated plug-and-play solution is simple to operate and adds unparalleled flexibility to your collaborative robot.