As part of its Executive Insights Series, AeroDef Manufacturing Summit and Exposition announces a panel discussion, "3D Modeling in Manufacturing: The Changing Aerospace and Defense Supply Chain and the Digital Innovation Imperative." The panel complements other additive manufacturing elements at AeroDef, including an Additive Manufacturing/3D Printing Resource Center and technical sessions.
Dearborn, Mich. February 18, 2014

AeroDef® Manufacturing Summit and Exposition 2014 will include a panel discussion, "3D Modeling in Manufacturing: The Changing Aerospace and Defense Supply Chain and the Digital Innovation Imperative," on Thursday, February 27, as part of its Executive Insights Series.
AeroDef Manufacturing, takes place February 25-27, 2014, at the Long Beach (Calif.) Convention Center. It is produced by SME in partnership and the largest OEMs to integrate the industry's distributed and diverse supply chain, drive innovation and increase productivity.
Panelists will discuss the similarities between today's aerospace and defense industry and the automotive supply chain transformation of the last century; the role of 3D digital enabled technologies in the transformation and growth of the global aerospace and defense industry; strategies used by other countries to use advanced manufacturing technology to compete in the global marketplace; the challenges of integrating 3D modeling and simulation technologies into small, medium and large manufacturing enterprises; and the role of America Makes, the National Additive Manufacturing Innovation Institutes, in the digital innovation imperative.
The panel is moderated by Dr. Al Sanders, president and CEO Design-Vantage Technologies, LLC. Other panelists include:
*Gabriel Burnett, operations research engineer, Boeing Research and Technology, The Boeing Company
*Michael Grieves, consultant, NASA
*Jon Riley, vice president, digital manufacturing, National Center for Manufacturing Sciences
*Mark Zic, business development manager, Dynomax Inc.
In addition to the panel, attendees can visit the Additive Manufacturing/3D Printing Resource Center (Booth 339), which will display parts produced by major technologies, including stereolithography, laser sintering and fused deposition modeling. Todd Grimm, an influential author, speaker and consultant on additive manufacturing/3D printing, will host the center and present afternoon and morning sessions on each day of the three-day exposition. Sessions will provide attendees with both tactical and strategic information for incorporating additive manufacturing technology into their own operations.
The panels, resource center, speakers and networking events are complimentary to those who register by February 21. Register at aerodefevent.com. Join our Twitter group @AeroDefMfg and our LinkedIn group to learn details about AeroDef as they unfold, including keynote speakers, panels and sponsorship opportunities for exhibitors.
Featured Product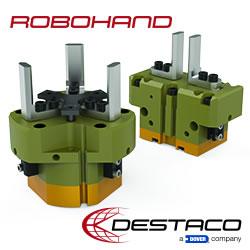 Automatically change end effector tooling quickly and easily with Destaco's Automatic Tool Changers. Designed with exceptional repeatability, high rigidity and load capacity, they are perfect for multiple tooling applications utilizing one robot. We offer different models and sizes to handle light-duty to heavy-duty applications. Our RQC/RTP Series provides a high level of flexibility with a configurable, modular design that accommodates up to four optional modular interfaces.