Unique grippers enable gentle, hygienic food handling in a very fast automated production environment.
Pleasanton, Calif., February 21, 2014 - Adept Technology, Inc.

(Nasdaq:ADEP), a leading provider of intelligent robots, autonomous mobile
solutions and services, today announced that it was awarded an Innovation
Award at the CFIA Rennes 2014 exhibition for its Adept "SoftPIC" food
gripper. CFIA Rennes 2014, a regional exhibition for the food-processing
industry, was held February 11-13, 2014, at Parc Expo Rennes Airport in
Rennes, France.
"We are honored to have won an Innovation Award for our patented SoftPIC
gripper," said Bruno Adam, director of Adept Technology France. "Adept
SoftPIC grippers are an important element in our portfolio of
state-of-the-art food-focused tools, which are designed to significantly
enhance food processors' efficiency and yields. These unique grippers enable
gentle, hygienic food handling in a very fast automated production
environment. And SoftPIC grippers come in several models, which can be
swapped out in less than two minutes, to accommodate lines that package
multiple products or handle more than one packaging size."
Designed for use with Adept "Quattro" and "Cobra" robots, Adept SoftPIC
grippers and graspers enable fast, accurate and hygienic transfer of product
in both primary and secondary food packaging operations. Made of soft
silicone approved for use in the food industry, SoftPIC grippers conform to
the shape of the product or package, helping the system achieve gentle
handling at high speeds even when processing randomly presented, non-rigid,
wet and irregularly shaped food products. Primary packaging applications
include processing raw protein, fruits and vegetables, and bakery items.
Secondary packaging applications include configuring bags, pouches,
containers and clam shells in a variety of patterns.
The Innovation Awards have been a main feature of the CFIA exhibition for
the past 17 years. The awards feature four categories and honor the top
products, equipment and services from exhibiting companies and represented
brands. The Adept SoftPIC gripper won an Innovation Award in the "Packaging"
category, where it was selected from a field of 18 entries.
For more information about the CFIA Rennes 2014 exhibition and the
Innovation Awards, please see
.
About Adept Technology, Inc.
Adept is a global, leading provider of intelligent robots, autonomous mobile
solutions and services that enable customers to achieve precision, speed,
quality and productivity in their assembly, handling, packaging, testing,
and logistical processes. With a comprehensive portfolio of high-performance
motion controllers, application development software, vision-guidance
technology and high-reliability robot mechanisms with autonomous
capabilities, Adept provides specialized, cost-effective robotics systems
and services to high-growth markets including medical, electronics, food and
semiconductor; as well as to traditional industrial markets including
machine tool automation and automotive components. More information is
available at www.adept.com.
Featured Product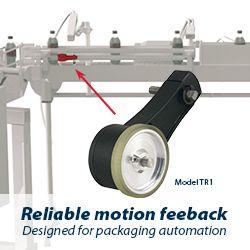 EPC is excited to announce our NEW online 3D Configurator. This new tool makes it even easier to configure EPC's products exactly how you need them for your application. The 3D Configurator interface is intuitive and works in any web browser for both desktop and mobile. It'll only take you a moment to learn your way around the program. Careful, though: it's so fun to play with, you may spend a whole afternoon on it!