Cybernet has been developing autonomous driverless technology since 1996. It has developed technology that enables driving in bad weather as well as for material handling operations.
March 08, 2014

Cybernet Systems Corporation, a leading defense, robotics, engineering, cyber security and simulation systems development company, today announced a patent pending for automated warehousing systems built around fully automated near-human driver capable robotic forklifts. The technology demonstrated to the US Army in November of last year at Toole Army Depot in Utah enables fully automated and mixed automation warehouse applications where multiple driverless forklifts work together with man-driven fork trucks safely. This effort grows from prior work the company has completed implementing automated lift trucks for ammunition handling and Unit-to-Unit Autonomous Resupply Vehicles for the Army based on its DARPA Urban Challenge automation kits. Additional technology in the line also enables driverless vehicles to operate in inclement weather conditions including snow, rain, dust, fog, and smoke. This technology was developed as a spin-off of driverless pallet delivery truck testing performed for the US Army during the 2013 and 2014 cold weather season.
About Cybernet Systems
Cybernet Systems Corporation is a leading American research and development company that engineers technological solutions to critical defense and cyber security challenges. Headquartered in Ann Arbor, Michigan, Cybernet ingenuity can be found in millions of home gaming systems, supporting American troops at installations around the world and providing critical support for sensitive computer systems. For more information, please visit http://www.cybernet.com and cybersecurity.cybernet.com.
Featured Product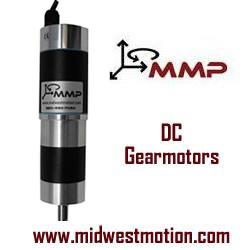 Midwest Motion Products, Inc. (MMP), is a well-established, healthy, & growing Family Owned Business, founded in 2001. MMP specializes in cost-effective standard DC Gearmotors, Motors, Controls, and ancillary equipment. Known world-wide for our "Lightning Fast" delivery capabilities, you can have a Standard Planetary or Right Angled DC Gearmotor BUILT and SHIPPED, often on the very same day you call. Offering Brushed and Brushless designs, with winding voltages ranging from 12 VDC to 120 VDC, we can deliver your "Robust & Reliable" samples within HOURS, instead of weeks, or even months.