Attendees Encouraged to Visit Expo Booth 4534 to See Latest Intelligent Autonomous Mobile Robot Demonstrations
Pleasanton, Calif., March 12, 2014 - Adept Technology, Inc. (Nasdaq:ADEP), a

leading provider of intelligent robots, autonomous mobile solutions and
services, today announced that it will showcase a range of state-of-the-art
intelligent robotics solutions ideal for warehouse and distribution center
materials handling applications at MODEX 2014. An event focused on the
manufacturing and supply chain industries, MODEX 2014 will be held March
17-20 at the Georgia World Congress Center in Atlanta.
"From our versatile mobile robots to our advanced vision-guided industrial
robotic systems, Adept is providing a new level of capability in terms of
process efficiency, material traceability, and automation flexibility for
many logistics applications," said Terry Hannon, Adept chief business
development and strategy officer. "We encourage MODEX attendees to come by
our expo booth, watch our live equipment demonstrations, and understand how
our robots can improve the efficiency of their warehousing processes."
At its MODEX booth, Adept will show its "Lynx" intelligent autonomous mobile
robot platform equipped with various payload modules to accommodate
materials movement in a warehouse setting. Designed for swift and flexible
point-to-point transporting, Lynx robots are self-navigating, automatically
avoiding obstacles and instantly planning an alternate route to reach a
goal. Lynx robots deploy without facility modifications and simply connect
with a user's enterprise software system to receive commands.
Adept will also demonstrate a multi-axis "Quattro" robot. The fastest
parallel robot in the world, the Quattro robot is an overhead-mounted system
intended for smooth motion, high throughput applications such as bin
picking, assembly and packing.
Adept's MODEX booth number is 4534. For added convenience, attendees can
make booth appointments by contacting Christine Hopkins, marketing
coordinator, at christine.hopkins@adept.com.
About Adept Technology, Inc.
Adept is a global, leading provider of intelligent robots, autonomous mobile
solutions and services that enable customers to achieve precision, speed,
quality and productivity in their assembly, handling, packaging, testing,
and logistical processes. With a comprehensive portfolio of high-performance
motion controllers, application development software, vision-guidance
technology and high-reliability robot mechanisms with autonomous
capabilities, Adept provides specialized, cost-effective robotics systems
and services to high-growth markets including medical, electronics, food and
semiconductor; as well as to traditional industrial markets including
machine tool automation and automotive components. More information is
available at www.adept.com.
Featured Product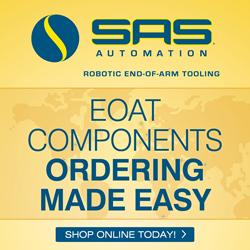 SAS Automation's complete line of modular components allows you to rapidly build your end-of-arm tools in your own plant, meeting your ever-changing automation needs on-demand. And with our newly enhanced Online Shopping Cart, it's never been easier! IT'S SHOPPING MADE SIMPLE, with features like: • Responsive Design so you can access anytime -- desktop, tablet or phone -- with ease • CAD Model Access with 3D Software Integration • Order History • Saved Quotes • Tool Builder • Product Comparisons • Enhanced Search • Social Media Sharing • Product Reviews