Lucas will lead QNA's Patuxent River operations
Reston, Va. - March 25, 2014 - QinetiQ North America (QNA) today announced the appointment of Mark "Luke" Lucas as Director of Strategic Programs within the company's Mission Solutions business unit. In this role, Lucas will lead QNA's Patuxent River operations, working closely with both the Tomahawk Command and Control System and Unmanned Common Control System teams, in addition to supporting business development efforts.

Prior to joining QNA, Lucas was responsible for acquisitions and warfare analysis at WBB, Inc. Lucas also held several positions with the U.S. Navy including Action Officer for the Deputy Assistant Secretary of the Navy for Air Programs; Air Wing Ship Integration Level 1 Integrated Product Team Lead, PMA 281; and C-9/C-40 Medium Lift Lead Systems Engineer, PMA-207, amongst others. Additionally, Lucas served as International Program Manager for the J4 Directorate, US European Command.
"Luke Lucas is a great asset for our Patuxent River operations," said John Sutton, executive vice president and general manager, Mission Solutions, QinetiQ North America. "His acquisition, security and operational expertise will significantly enhance our support to our Navy customers and programs."
Lucas is a retired Navy commander, having served several operational and combat tours as a naval flight officer in Kosovo and Iraq. He holds a Master of Business Administration degree from Regis University and a Bachelor of Science degree in oceanography from the United States Naval Academy.
About QinetiQ North America
QNA is a subsidiary of QinetiQ Group PLC, the FTSE250 company listed on the London Stock Exchange (LSE: QQ.L). Operating in North America, QNA delivers world-class technology, responsive services, and innovative solutions for global markets, focusing on US government and commercial customers. Its engineers, scientists, and other professionals deliver high quality products and services that leverage detailed mission knowledge and proven, reliable tools and methodologies to meet the rapidly changing demands of national defense, homeland security, and information assurance customers. QNA is headquartered in Reston, VA. For more information, visit www.qinetiq-na.com, and join our conversation at www.facebook.com/qinetiqna.
Featured Product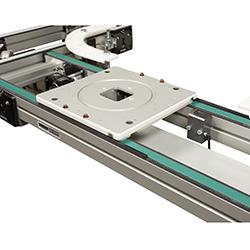 Dorner's 2200 Series Precision Move Pallet Systems are ideal for assembly automation. With features such as an innovative timing belt conveyor design and industry best pallet transfers, they get your product to the exact location, at the exact time and in the exact position it needs to be. They are now available with new options such as heavy load corner modules with 150 lb. capacity and 180 degree tight transfer corners for compact loops.