Offers Larger, More Durable 3D-printed Prototyping and End-use Parts
Hyphen™, the most comprehensive rapid prototyping and testing facility in North America, announced a significant upgrade to its capabilities with the purchase of the Stratasys Fortus 900mc 3D Production System from Cimetrix, one of Canada's leading additive manufacturing solution providers. Using Fused Deposition Modeling (FDM®), the system builds durable, accurate, repeatable parts as large as 36 x 24 x 36 inches, with a selection of ten material options, including FDM® Nylon 12, to create more finely detailed building fixture, factory tooling, and end-use parts that are closer to a finished product than ever before. The new developments are part of Hyphen's growth over the past year and a half, which has seen the lab broaden its services, establish new industry connections, and strengthen its leadership role in the additive manufacturing industry.

Cimetrix is uniquely positioned to assist clients like Hyphen in the acquisition and maximum use of 3D production systems, offering services that enhance their business processes and facilitate their effective use of technology through ongoing product and applications support. Cimetrix also brings access to an impressive array of additive manufacturing systems that use leading technologies such as FDM, further ensuring that Hyphen services and technology are at the forefront of innovation. Hyphen's addition of the Stratasys Fortus 900mc will enable their team to manufacture larger parts that are ideal for concept modeling, functional prototyping, manufacturing tools and even end-use parts, enabling faster speed to market.
"Hyphen has quickly established itself as a visionary in the additive manufacturing industry, championing new technologies and forging relationships with key players in all aspects of this growing field," said James Janeteas, President & CEO, Cimetrix Solutions Inc. "As their industry colleagues, we look forward to working with the Hyphen team to continue to develop innovative and cutting-edge solutions to address client needs."
"Hyphen continues to make major strides in capabilities and services, and important industry connections like Cimetrix ensure that our customers receive the latest technology and most creative support available today," said Mark Barfoot, managing director of Hyphen. "The purchase of the Stratasys Fortus 900mc offers us groundbreaking technology to help designers and manufacturers bring their ideas to life faster and more accurately than ever before."
Hyphen also actively looks for the most effective ways to work with large and small companies, inventors and makers, and educational institutions. Hyphen's lab is open to the public, providing a broad range of additive manufacturing and environmental testing, all under one roof.
"If you can envision it, we can help you build it at Hyphen," said Barfoot.
Featured Product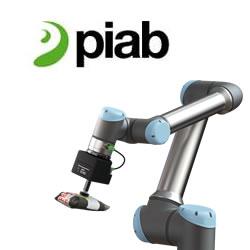 Piab's Kenos KCS gripper enables a collaborative robot to handle just about anything at any time. Combining Piab's proprietary air-driven COAX vacuum technology with an easily replaceable technical foam that molds itself around any surface or shape, the gripper can be used to safely grip, lift and handle any object. Standard interface (ISO) adapters enable the whole unit to be attached to any cobot type on the market with a body made in a lightweight 3D printed material. Approved by Universal Robots as a UR+ end effector.