Fort Worth Convention Center May 7-8, 2014
SANTA MONICA, Calif., April 8, 2014 -- Automation technologies and applications, from robotics and motion control to vision inspection systems and sensors, are used in every industry: medical, electronics, food and beverage, aerospace, automotive, and more. ATX Texas, highlighting automation technologies, is coming to Fort Worth Convention Center May 7-8, 2014. The exposition will provide automation suppliers with the opportunity to showcase their latest developments and products. Attendees will learn about advancements in the industry firsthand. ATX Texas rotates every year between Fort Worth and Houston.

ATX Texas attendees can upgrade their badges to include Learning Labs, 2-hour technical seminars. Innovations in Robotic Technology: Strategic Applications in Manufacturing is just one of the automation-related Learning Labs featured at the trade show. Learn about collaborative robotics; aligning your human and robotic workforce, optimizing vision recognition for increased accuracy, and introducing flexible and lightweight robotics into your factory floor. Guest speakers for this session include Dan Popa, a Multiscale Robotics Professor at UTA, Mel Torrie, CEO of Autonomous Solutions, and Paul Frenger, Owner of A Working Hypothesis. Additional Learning Lab topics include 3D Printing Capabilities: Innovative Tools & New Materials for Design and Manufacturing, Lean Manufacturing & Six Sigma, and Advanced Materials & Device Technology.
Visitors can attend six additional co-located events, which are free with admission to ATX Texas: Design & Manufacturing Texas, TexasPack, MD&M Texas, PLASTEC Texas, Quality Expo Texas, and AeroCon. These events give attendees access to the design, packaging, medical, plastic, quality, and aerospace industries.
About UBM Canon
UBM Canon is the leading producer of face-to-face trade events and media brands that support the flow of information, commerce, and innovation in the world's $3 trillion advanced technology-based manufacturing sector, including co-located events in Anaheim, CA; New York, NY; Chicago, IL; Orlando, FL; Charlotte, NC; Dallas/Fort Worth, TX; Houston, TX; Boston, MA; Minneapolis, MN; Toronto, ON; and Montreal, QC. UBM Canon's extensive manufacturing portfolio includes events for medical design and manufacturing, packaging, process technology, design engineering, assembly and automation technology, plastics processing, quality assurance, and electronics. UBM Canon's signature strategic co-location of these events has resulted in the largest design and manufacturing events in the United States.
Featured Product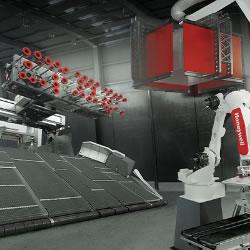 Challenges on the loading dock are characteristic of greater pressures from the rise of e-commerce. Loading and unloading freight from trailers, trucks and shipping containers are arduous, repetitive tasks plagued by high turnover. Even with regularly available staff, manually unloading freight and the constant lifting and twisting results in fatigue and inconsistent, declining productivity. Robotics capable of fully automating unloading tasks bring a new paradigm to the dock. High performance and flexibility push unloading from a labor-heavy, manual chore to an automated, refined process. High-performing DC workers can take more desirable positions, with relief from unpleasant work conditions. Management gets to replace uncertainty and staffing challenges with a reliable, automated process, with data to fuel continuous improvement.