$299 first consumer 3D printer on course to overtake Oculus Rift in crowdfunding race
BETHESDA, Maryland, April 10, 2014 --

$299 first consumer 3D printer on course to overtake Oculus Rift in crowdfunding race
The Micro, the first truly affordable 3D Printer, has hit the $2 million mark, with 7091 backers less than 3 days into the campaign. Starting at the consumer-friendly price of $299 The Micro is fast racing to be one of the most successful Kickstarters of all time, after hitting their funding goal in just 11 minutes and bringing 3D printing to the mass market:
https://www.kickstarter.com/projects/1160119448/1265992004?token=0ff6b5a4
The Micro hit the $1 million mark in 25 hours - faster than the Pebble watch, which took 28 hours to reach the same milestone. The Micro is currently over funded by 4007% just 3 days into the campaign, meaning that the project looks set to overtake crowdfunding successes such as Oculus Rift, which hit 974% of funding by the time the campaign came to a close.
It is on course to race to the top Kickstarters of all time:
*The Micro: currently at $2,003,989 in 2 days and 22 hours days into the campaign
*Oculus Rift: reached $2,437,429 in 31 days
*Double FIne Adventure: total reached $3,336,371 in 35 days
*OUYA: total reached $8,596,474 in 30 days
*Pebble Watch: total reached $10,266,845 in 38 days
Stuart Miles, founder of top gadgets and tech site Pocket-Lint, puts M3D's success so far in context: "The Micro is fast becoming the Pebble of 2014, and likely to be the Kickstarter to beat this year. I can't imagine the heights this could reach when it's beaten so many records just 2 days in to the campaign, and I'm excited for what's in store for The Micro".
Michael Armani, Founder at M3D, explains: "We are absolutely astounded by the positive response we've had; to hit our goal in just 11 minutes and then to raise more than $2 million this early in our campaign. We're honored to be in the same arena of Kickstarter success stories such as the Oculus Rift, and excited to be making The Micro a reality for the everyday consumer thanks to our backers. They've made this possible, and we're making sure that we deliver on time as a thank you for their continued support."
Whether running a business or printing for fun and useful everyday objects, The Micro can be used to create anything from custom jewellery, cookie cutters, everyday objects around the house, and real engineering and artistic prototypes. To start 3D printing you simply plug in the printer, download or create models, and hit print; making it ideal for both the everyday user and the more tech-savvy 3D printing enthusiast. The Micro comes ready to use out of the box, meaning that there's no setup or complicated instructions to follow - all in an accessible, compact and portable size that can rest on any table-top.
Navigating the 3D printer software and looking through the designs is as enjoyable as playing a game, meaning that the process of 3D printing from start to finish is an easy and smooth experience. Search and browse countless objects online, organize 3D models you've downloaded into an easy to view library, and makes your ideas become a reality. The cost of The Micro is kept low by ensuring that it's space and power efficient, compact, and lightweight; using as much power as a tablet would use without compromising on reliability.
Specs:
* The Micro Supports many different materials: ABS, PLA, nylon, chameleon, as well as M3D's micro filament spools or standard 1.75 mm filament spools available on the market.
* Compatible with Mac and PC and Linux through a direct USB-connection. Advanced users can use the expert settings, as well as other software such as open-source slicers.
* Micro Motion Technology is a sensor and feedback system built into the print head, providing auto-leveling and auto-calibration. This means that every time you run the printer it works well, even after thousands of hours of use.
* The Micro 3D Printer can print objects as tall as 4.6 inches or 116 mm.
* 50-350 micron layer resolution, 15 micron X and Y positioning accuracy.
* Dimensions: Print height: 116mm (4.6"). Base Print Area: 109mm x 113mm. Print Area Above 74mm: 91mm x 84mm.
* Removable ABS-bonding Print Bed.
* Printer Dimensions: 185mm³ / Printer weight: 1kg (2.2 lbs).
You can still back The Micro on their Kickstarter page until the end of their campaign on May 7. The Micro is designed for assembly and production in the USA.
Featured Product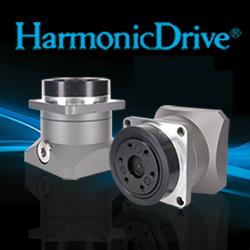 The SHA-IDT Series is a family of compact actuators that deliver high torque with exceptional accuracy and repeatability. These hollow shaft servo actuators feature Harmonic Drive® precision strain wave gears combined with a brushless servomotor, a brake, two magnetic absolute encoders and an integrated servo drive with CANopen® communication. This revolutionary product eliminates the need for an external drive and greatly simplifies wiring yet delivers high-positional accuracy and torsional stiffness in a compact housing.