15h Annual Award Recognizes Top Sellers of Conveyors from Intelligent Material Handling Solutions Provider
ELK GROVE VILLAGE, Ill.--Wynright Corporation, a wholly owned subsidiary of Daifuku Webb and a leading U.S.-based provider of intelligent material handling systems, today announced the company's Top 10 Integrator-Distributors for Automotion® Conveyor Solutions in 2013.

The annual honor acknowledges the achievements of the integrator-distributors in designing systems that incorporate Wynright's various conveyor and sortation products. It reflects those who have attained the highest sales volume of Wynright's Automotion brand equipment, and is measured in total dollars. Each company will be celebrated at Wynright's annual awards banquet held in May, 2014.
The 2013 winners include: Hy-Tek Integrated Systems of Hebron, Ky., which has placed in the No. 1 position for three years running; Avante Ingenieria of Envigado, Colombia; Warehouse Systems, Inc. of Northbrook, Ill.; DS Handling Systems, Ltd. of Ontario, Canada; World Source Integration, Inc. of Batavia, Ill.; Xact Warehouse Solutions of Cedar Park, Texas; Tech Conveyor of Phillipsburg, N.J.; ETi of Marietta, Ga.; Mainway Handling Systems, Inc. of Ontario, Canada; and Willcox & Allen of Irondale, Ala.
"Combining engineering prowess, products, services and great integrator-distributor partners, Wynright is solving the material handling systems challenges of the 21st Century distribution center," said Kevin Ambrose, CEO of Wynright Corporation. "With the help of a solid network of integrator-distributors, we are making significant headway and inroads, and we're thankful for their continued support."
Wynright's material handling solutions are built for easy integration with a client's business processes and applications for competitive advantage. Wynright offers a wide variety of material handling solutions, such as conveyors and sortation equipment under the Automotion brand name, warehouse control systems, robotics (including the Robotic Truck Unloader), structural solutions (including mezzanines), light and voice directed technologies, and automated storage and retrieval systems (AS/RS).
About Wynright Corporation
Wynright Corporation, a wholly owned subsidiary of Daifuku Webb, is a leading provider of intelligent material handling systems. With more than 200 engineers in-house, the company designs, manufactures, integrates and installs a full spectrum of intralogistics solutions, offering both Wynright-branded and third-party equipment to meet client needs. These include leading-edge conveyor and sortation systems, voice- and light-directed order fulfillment equipment, a suite of warehouse controls & execution software, robotics, mezzanines, and structures, all backed by critical round-the-clock service and support.
Since its founding in 1972, Wynright has been a trusted partner to some of the world's largest and fastest-growing companies, showing them how to use their space more efficiently to deliver improved productivity, today and tomorrow.
About Daifuku Webb Holding Company
Daifuku Webb Holding Company, a subsidiary of Daifuku Co. Ltd., is a leading developer of innovative material handling technology such as Automatic Guided Vehicles (AGVs), Automated Storage and Retrieval Systems (AS/RS), conveyors, baggage handling systems, bulk handling systems, cleanroom systems and airport maintenance services. It includes Daifuku America Corporation, Jervis B. Webb Company, Elite Line Services, Logan Teleflex, Inc. and Wynright Corporation. Daifuku Webb specializes in the design, engineering, manufacturing, installation and service of integrated systems used in the automotive, airport, semiconductor, LCD equipment, food/beverage, bulk, warehousing and manufacturing industries. Daifuku Webb Holding Company is headquartered in Farmington Hills, Mich., with manufacturing locations throughout North America.
Automotion is a registered trademark of Wynright Corporation.
Featured Product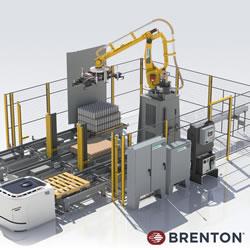 Brenton is a leader in robotic solutions with standard product offerings including palletizing and depalletizing for efficient an option for carrying hard-to-handle products, as well as larger scale systems with an optimized footprint; and case and carton loading solutions for numerous industries. In addition, Brenton works with customers on integrated solutions, offering robotics in a broad spectrum of robotics to fully integrate end of line systems. Brenton helps packaging customers protect their reputation and grow the trust of their consumers.