E-commerce shoppers can now buy at introductory price
HOUSTON--As the first shipment of IdeaWerk high performance 3D printers arrives at the Port of Los Angeles, Puget Technologies (OTCBB:PUGE) announces today is the first day the printers are available for immediate pre-order in the U.S. at the introductory price of $999. Consumers can now visit the online site at www.weistekusa.com and be among the first to order and receive this award-winning product.

The IdeaWerk high performance 3D printer, available through Puget's subsidiary, Weistek USA, offers an impressive line-up of quality features at an attractive introductory price point along with the benefit of responsive domestic customer care. Weistek USA has paired the new printer with an industry first "premium care plan" that includes printer set-up and PC support designed to deliver the best "print-out-of-the-box" experience for consumers new to 3D printing.
"This highly anticipated offer represents a way for the average consumer to get in on the 3D printing revolution," said Gary Valentine, President and CEO of Puget. He added, "The IdeaWerk 3D printer brings everything together in a device from a satisfying out-of-box experience to knowledgeable customer service support, leading the consumer into the 'maker' environment as quickly as possible."
Puget, an emerging leader in the 3D space, brings an unprecedented 3D printer experience to users, including manufacturing especially for the U.S. consumer market, with the goal of developing a product that will appeal to enthusiasts as well as first-timers and advance the personal at-home use segment of the market.
Among the key attributes of this model are user-friendliness, compact and portable hardware, a solid metal body and up to 120 hours of continuous printing. This high performance model was awarded "Best Annual 3D Printer" during January's massive International Consumer Electronics Show (CES) in Las Vegas.
Since the first shipment of the IdeaWerk high performance 3D printer units are now in the U.S., consumers are encouraged to place their pre-orders early. Details are available at www.weistekusa.com.
About Puget Technologies (PUGE)
Headquartered in Houston, Texas, Puget Technologies acquires, develops and sells leading edge consumer oriented products ready for rapid commercialization. Much of its resources are dedicated to research and development in order to provide consumers with quality options while meeting the expectations of its investors. Additional information about Puget Technologies is found at http://www.pugettechinc.com.
Featured Product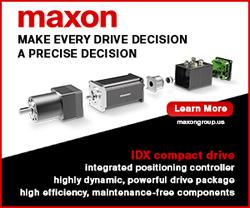 Discover the world of drive technology from a leading worldwide supplier of innovative customized drives. - Manufacturer of brushed and brushless DC motors, gearheads and motion controllers - Custom drive systems, quantities as low as a single unit - Certified for aerospace and medical applications