Reebok and C.ideas take top honors in annual 3D printing competition.
Chatsworth, California April 21, 2014

The Additive Manufacturing Users Group (AMUG) today announced recipients of awards for technical skill. The awards were presented at the 26th annual users group conference in Tucson, Arizona.
During the annual Awards Banquet, the association named the winners of the 2014 Technical Competition. This competition recognizes excellence in additive manufacturing applications and skill in finishing additive manufacturing parts.
A panel of industry veterans selected Carlos Bolanos and Gary Rabinovitz, both of Reebok International, as the winners in the advanced applications category. Their submission demonstrated the application of additive manufacturing throughout the five-year development effort for Reebok CHECKLIGHT. CHECKLIGHT is a wearable technology that visually indicates cranial impacts that may have caused concussions.
The same panel selected Mike Littrell, president of C.ideas, as the winner in the advanced finishing category. Littrell's submission, titled The Perfect Choice, was a two-fifths-scale 1927 Miller 91 race car created entirely from additive manufacturing parts that were painted, textured, plated, vacuum metalized and decorated to match designer Bill Gould's vision. Littrell's company used four technologies to make the components: Fused Deposition Modeling (FDM), Selective Laser Sintering (SLS), Stereolithography (SLA) and PolyJet. Littrell has also published a video that documents the Miller 91's construction that is available on YouTube at http://youtu.be/K1zV8JMwrvs.
Eric Mutchler, project engineer at Solid Concepts, took the runner-up award in both categories for its 3D-printed metal gun, the first in the world. Mathew Olney, on behalf of the Nike Rapid Prototyping Lab, accepted the third place award in advanced finishing for the full-size, anatomically correct human leg and foot. Mike Littrel also received the third place award in advanced concepts for the 1927 Miller 91 race car.
The five judges were Steve Deak, Larry Monahan, Gideon Levy, Graham Tromans and Bob Dzugan. Each was a past recipient of AMUG's DINO (Distinguished Innovator Operator) Award.
About Additive Manufacturing Users Group (AMUG):
AMUG is an organization that educates and advances the uses and applications of additive manufacturing technologies. AMUG members include all commercial additive manufacturing technologies for companies such as Stratasys, 3D Systems, Concept Laser, SLM Solutions, EOS, and Renishaw. AMUG meets annually to provide a forum for technical presentation on processes and new technologies. This information addresses operation of additive manufacturing equipment and the applications that use the parts they make. Find AMUG online at http://www.am-ug.com.
Featured Product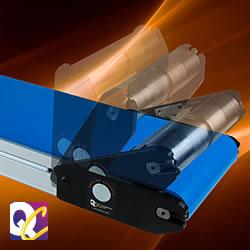 AS40 Conveyors are designed for ease of use and simple integration with robotic applications. Built on a rigid aluminum frame, they feature tee slots for rapid accessory mounting and a tail that flips up at the push of a button for easy under-belt cleaning and belt changes. Nosebar tails are available for transferring small parts between conveyors. All conveyors include a 10 Year Warranty and most are available with a fast five day lead time.