By Expanding Their Online Catalog Offering, Industrial Automation Manufacturer, PFA is Providing an Excellent Customer Experience to a Larger Audience
Cincinnati, OH and Germantown, WI April 22, 2014

Industrial Automation Manufacturer, PFA Incorporated, has expanded their online parts catalog built by CADENAS PARTsolutions. Now, engineers can quickly configure and download products from the PFA self-locking cylinder line for use within their application, saving time and increasing design accuracy.
PFA Inc., a Wisconsin based manufacturer of industrial automation, injection molding and associated products, is best known for the KOR-LOK® Side-Action Systems product line, already available within the online parts catalog. KOR-LOK Side-Action products are highly configurable components used for complex injection molding applications, and one of the most popular digital 3D products from PFA. Expanding on the success of KOR-LOK, PFA is now providing 3D models of the Self-Locking series of cylinders.
PFA has expanded their online parts catalog to include self-locking digital 3D products, thanks to customer feedback and demand, says Mark Scanlan, Vice President and GM of PFA Inc.
"We get the opportunity to hear from our customers all the time, and the feedback is overwhelmingly positive," says Scanlan. "We've been told how useful the configurator is and how it really helps our customers to do their jobs better. By providing our products as customizable 3D models, the customer gets exactly what they need to represent the part they are going to buy. We're often asked for more of our products in digital 3D, and the self-locking series was highly requested, which is why it's available now."
"What PFA is doing is exactly what we love to hear," says Tim Thomas, CEO of CADENAS PARTsolutions. "The goal for every industrial manufacturer is to create a remarkable customer experience. PFA has customers asking for more products in 3D so they are answering the call, and that investment will pay dividends with happier customers and more sales."
PFA self-locking cylinders enable designers to defeat common barriers associated with hydraulic and pneumatic systems. The self-locking cylinders incorporate the features of a push/pull cylinder with the added capability to lock into position at the end of the stroke. This high-capacity lock mechanism can hold a tremendous locking force without need for hydraulic pressure, a common need in the oil and gas industry as well as injection molding applications.
About PFA Incorporated
PFA, a Wisconsin based manufacturer of factory automation and injection molding products to serve a variety of industries and applications. PFA is a leader in the design and manufacture of True Locking Core Pull Cylinders (KOR-LOK®), Quick Die Change Systems (QDC ), Quick Mold Change Systems (QMC), Multi-Slide Die Casting Solutions, Industrial Locking and Braking Cylinders, and Robotic Automation End-Effectors. Find out more at http://www.pfa-inc.com.
About CADENAS PARTsolutions
CADENAS PARTsolutions is a leading provider of next generation 3D part catalog management and sales configuration solutions. For large manufacturers, CADENAS PARTsolutions provides centralized 3D standard part catalogs making it easy for global design teams to find, reuse, and control standard and proprietary parts. For component manufacturers, CADENAS PARTsolutions provides 3D part catalog with CAD download technology to increase sales lead generation and to ensure that components get "designed in" to OEM products. http://www.partsolutions.com
Featured Product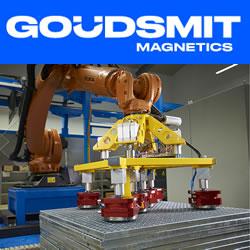 Magnetic robot end-of-arm tooling are suitable for the automated pick-up and positioning of steel or other ferromagnetic objects. They can be switched on and off and have a threaded mounting hole for robots. Magnetic grippers are an efficient alternative for traditional robot grippers. Application in automated production lines and for robots and pick-and-place systems. Magnetic product handling reduces the duration and number of operations. Goudsmit Magnetics is driven by magnetism since 1959. See how it works: https://youtu.be/hcXJ98mXHZE